June 9th, 2010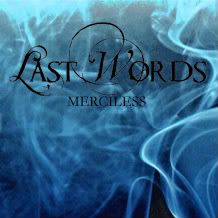 Release Date: July 7th, 2008
Label: Unsigned
Website: None available
MySpace: www.myspace.com/lastwordsmusic
Rating:


Kicking right into smashing metal, Last Words most recent release 'Merciless' since their debut EP delivers the same carnage and metal that they've been doing in the past, and stepping things up a little bit since then too.
With moments that sound like some of the older material by Avenged Sevenfold, 'Merciless' is another piece of material from the Cheshire 5-piece that shouldn't go unnoticed. Unlike a lot of metal bands starting up nowadays, Last Words include some progression and varying sections in their music, with it being dense in brutal force with moments to take a breather, such as the section where "As the rain fell down my face" from lead vocalist Scott Rowland.
There's promise from this release that the band aren't going to hold back or change what they do to be accepted by more mainstream audiences while creating music that doesn't sound the same every second along the way. That is how metal should be.
Written by Zach Redrup