June 9th, 2010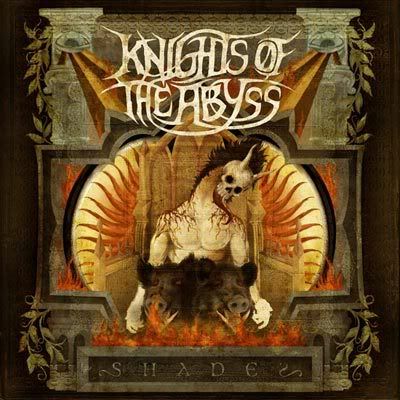 Release Date: June 24th, 2008
Label: Ferret Music/Siege Of Amidia
Website: None available
MySpace: www.myspace.com/knightsoftheabyss
Rating:


With a name like Knights Of The Abyss, you know straight before you even hear a single note that this band aren't going to be ones that sing of sunshine, lollipops, or rainbows. With recent release 'Shades', the band return with their second full-length studio album, offering as much chaos and carnage that you'd find in the middle of a war battlefield.
You get chucked into the deep end from the first second, being pummeled by the ferocity that this band holds. 'Whorror Storm' unveils the skill and talent that guitarists Cody Brechtel and Nickoli Florence have on offer, providing a harmonising short solo to reveal technicality and songwriting skills this band has. Though it wouldn't seem a likely and compatible addition to this genre of music, 'Shades' has elements and sections of melodic music, such as that present in 'Running Out Of Earthly Wealth', offering to us brutal music with a catchy and memorable undertone.
We're offered a short moment with 'Feeling Faint' for a brief pause of clarity, before we're again launched into the metal firing range with 'Dis Unveiled', with haunting and graphic lyrics repeated in an unexpected chorus fashion, "Trapped in a fiery tomb / Dwelling in terrible gloom". More melodic yet heavy and angered moments are shot across the album, such as those present within 'Suicide Reign', and 'Bound By Heresy'. The closing track 'Behold The Frigid Realm Of Div' closes the records perfectly, again shining with unlikely yet effective melodic deathcore, polishing 'Shades' to an honourable and respectful end.
Though it won't be evident to all, Knights Of The Abyss's take and development on melodic deathcore is one that works, and possibly one that will catch on and become more common and appreciated in a short space of time. For now, 'Shades' is a piece that the band should be proud of creating.
Written by Zach Redrup