June 8th, 2010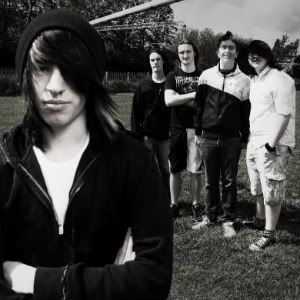 Date: July 28th, 2008
Venue: De.Bees, Winsford
Support: Laid To Ruin, Heartless, Drederick Tatum
Rating: 8/10
Website: None available
MySpace: www.myspace.com/titleofinjustice
If you want a surefire way to catch yourself in a moshpit, circle pit, or any sort of pit to that vain really then metal nights are the way to go. With the Cheshire area spawning off these brutal music groups more than rabbits going at it, it's about time Winsford hosted one.
Tonight's metal night openers Laid To Ruin (**) have the bare essentials down right; the loud screams and guttural lion growls, the fast galloping guitar riffs, and the heavy and dirty bass and drum combination, but lack the essentials to make them standout from being just 'another local metal act'. Energy only comes in short little bursts, but when the most prolonged showing of activity comes along it's in the form of frontman Ryan Nicholls (who we were told after writing this review was replaced that night by a friend of the band due to Ryan being ill) ridiculously smashing his fist (along with his microphone) into the head of what he later describes as a 'friend'… odd friendship.
Needless to say, this sets an easy place for Heartless (***) to pull off something a little better for the locals. Having more of a hardcore sound as opposed to the more metal focused predecessors, they bring brings from earlier to a slightly new realm. The shortage of band to crowd communication leads to Heartless not getting too much of a reaction from the spectators but all the while still do themselves justice. Their set closer eradicates all of this though, with a member of the audience even jumping on stage and stealing the microphone to sing/scream-a-long.
Things are laid to waste entirely once The Simpsons boxer inspired deathcore novices Drederick Tatum (****) take to the stand. Their humourously titled songs like 'In My Neighbourhood? I Don't Think So' and Friends referenced 'Joey Doesn't Share Food' may at first seem to belie in comedy, but have a core and presence of pure anger, aggression and passion. This is all depicted and showcased through the explosion of frontman Gary Challinor, usually spending more time on the floor and moshing with the crowd and jumping off the stage – clearly giving it his all. What's more, various members of the band have only just cleared themselves of the currently popular swine flu and still manage an appearance tonight.
High quality metal just keeps rolling on thanks to headliners Title Of Injustice (****). Coming onstage dressed in a Spider-Man costume, vocalist Shaun Povall shows a passion for the music he creates, and a stage presence beyond his years – being probably the youngest frontman to perform tonight. His screams and barks through a set with the likes of 'Serenade In Smoke' and 'Left For Dead' can put a lot of older local acts to shame. Accompanied by the dual guitar attack of Scott and Roca (who are again both fairly young), the band breathes a promise that sometimes those seen as the students can elevate to become the teacher. Sure, they're not perfect and getting everything down like a 50p hooker, but a little more time and experience can give them the chance to fix that.
Written by Zach Redrup