ALBUM: Finntroll - Bloodsvept
Release Date: March 25th, 2013
Label: EMI
Website: None available
Facebook: www.facebook.com/officialfinntroll
Twitter: www.twitter.com/finntrollmusic
Rating:

Folk metal is one of those niche black-metal sub genres that's gained a cult following. The genre is usually ignored or not taken seriously by a lot of metal fans and the media, even though there are quite a few folk-metal gems out there. Finland's own Finntroll have produced one of those gems with their sixth album, 'Blodsvept'.


Tags: Finntroll
Posted in CDs | No Comments »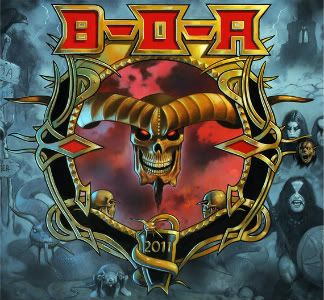 Date: August 13th, 2011
Venue: Catton Hall, Derby
Website: www.bloodstock.uk.com
Facebook: www.facebook.com/bloodstock
Twitter: www.twitter.com/bloodstockfest
Photo gallery: View it here
Note: As only two members of the site were able to review the festival weekend, we were sadly unable to cover every band performing throughout the festival.
Reaching the 10th anniversary of this festival, it has come a long way from its humble beginnings at the Derby Assembly Rooms as a one day event. Being the only underground metal festival in England, it has earned an infamy on par with the metal bands it has playing. Day two of this year's Bloodstock brings yet more metal to the people.


Tags: Angelwitch, Bloodstock, Def-Con-One, Dripback, Finntroll, Grave Digger, Immortal, Rhapsody Of Fire, Skeleton Witch, The Rotted, Therion, Wintersun
Posted in Live | No Comments »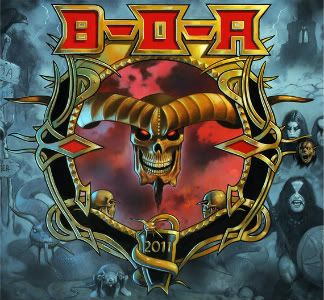 In the UK, Bloodstock Open Air Festival in Derby is the festival you have to go to if you want a weekend full of relentless heavy metal, and the 2011 line-up maintains the high quality that the festival has always been known to uphold. Halfway into the festival, bands such as Immortal and Finntroll had their turn to grace us with their presence, and it was good.
Featuring: Skeleton Witch, Grave Digger, Dripback, Finntroll, Def Con One, Wintersun, Therion, Rhapsody Of Fire and Immortal.


Tags: Bloodstock, Def-Con-One, Dripback, Finntroll, Grave Digger, Immortal, Rhapsody Of Fire, Skeleton Witch, Therion, Wintersun
Posted in Media, News | No Comments »