NEWS: More Than Life, Azriel and more join Crash Doubt Festival 2 line-up!
Lincoln's Crash Doubt Festival 2 have confirmed a new bunch of bands to join this year's already stellar line-up, including More Than Life and Azriel. All newly confirmed acts to this year's bill are listed below:


Tags: All Eyes West, Azriel, Bad Ideas, Crash Doubt Festival, Crossbreaker, Empires Fade, Empty Handed, Fighting Fiction, Isolated, Moral Dilemma, More Than Life, The Liberation Service, Tim Vantol, Veils
Posted in News | No Comments »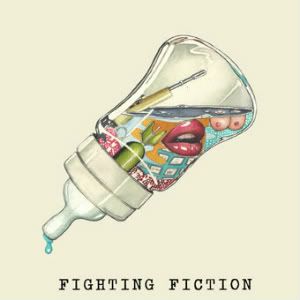 Release Date: February 27th, 2012
Label: Xtra Mile Recordings
Website: www.fightingfiction.com
Facebook: www.facebook.com/fightingfiction
Twitter: www.twitter.com/fightingfiction
Rating:

Seeming as they're apparently one of the bands that'll make a name for themselves this year, a phrase that's thrown about and applied to far too many bands, you hope that Fighting Fiction's self-titled debut album will prove they're worth the hype. However, and sadly, it's something of a mixed bag. At times, it's good – although the band do lean heavily on bands that they take influence from, such as The King Blues and older punk bands such as The Clash – and you find yourself getting into the music, but then just as quickly you're put off by the next track that's generic, clichéd and, in all honesty, should be nowhere near a band who've developed as much hype as these guys.


Tags: Fighting Fiction
Posted in CDs | No Comments »
A further 30 acts have been added to this year's 2000 Trees Festival line-up. The following acts are new additions to the 2011 bill, with the stage they'll also be performing on:
Main Stage:
Tribes, Danny & The Champs, Zun Zun Egui, Jim Lockey & The Solemn Sun, The Anomalies, We The Undersigned
The Cave (New Second Stage):
Chickenhawk, Bo Ningen, Invasion, &U&I, Witchsorrow, The Me! Me! Me's?, The Echoes
Leaf Lounge:
Fighting Fiction, Scoundrels, Left With Pictures, Falcons, The Retrospective Soundtrack Players
Greenhouse Stage:
DJ Primer, Side Step DJs, Charlie Barnes, Ben Marwood, Tatterattles, B-Sydes, EsseB, The Yuya, Midnight Mile, Dan Heaver, Gaz Brookfield


Tags: &U&I, 2000 Trees Festival, B-Sydes, Ben Marwood, Bo Ningen, Charlie Barnes, Chickenhawk, Dan Heaver, Danny & The Champs, DJ Primer, EsseB, Falcons, Fighting Fiction, Gaz Brookfield, Invasion, Jim Lockey & The Solemn Sun, Left With Pictures, Midnight Mile, Scoundrels, Side Step DJs, Tatterattles, The Anomalies, The Echoes, The Me! Me! Me's?, The Retrospective Soundtrack Players, The Yuya, Tribes, We The Undersigned, Witchsorrow, Zun Zun Egui
Posted in News | No Comments »