NEWS: Dragonforce announce UK and Ireland headline tour for September!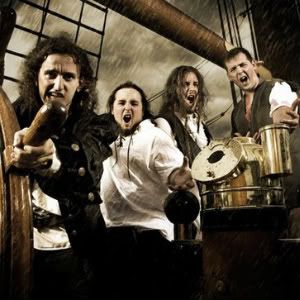 Date: February 4th, 2012
Venue: White Rabbit, Plymouth
Support: Claim The Throne, Darkest Era, Huron
Website: www.alestorm.net
Facebook: www.facebook.com/alestormband
Twitter: www.twitter.com/alestormband
Rating:


Plymouth appears to be the only place in the UK that isn't snowed under, and that actually turns out to be lucky for the first date of Alestorm's "Useless Drunken Bastards" tour. Now on their third album of pirate themed folky power metal, they are renowned for their party atmosphere at gigs. As it is, everyone loves dressing up as a pirate for some reason, so they've managed to build on a niché that is always gonna be successful. Luckily, they can back it up with good song writing skills and catchy drinking anthems that are easy to sing along to. Even if every song pretty much sounds the same.


Tags: Alestorm, Claim The Throne, Darkest Era, Huron
Posted in Live | No Comments »