Staff
Below you'll find all the current staff/contributors working towards the site. All editors will display their role towards the site, personal bio and relative contact details for any queries you may have:
---
Zach Redrup
Founder / Editor
D.O.B: December 30th, 1989
LOCATION: Manchester, UK
EMAIL: zach.redrup@deadpress.co.uk
LINKS: Facebook, Twitter, Last.FM
FAVOURITE GENRES: Post-Hardcore, Alternative Rock, Metalcore
FAVOURITE BANDS: Reuben, GlassJaw, 36 Crazyfists
FAVOURITE ALBUMS: Reuben – 'Racecar Is Racecar Backwards', Funeral For A Friend – 'Casually Dressed & Deep In Conversation', GlassJaw – 'Everything You Ever Wanted To Know About Silence'
BRIEF BIO: This site is the fruit of my labour, which originally began as a portfolio of my work before I gradually began recruiting contributors over time. In August 2010, I formed DEAD PRESS! into a fully fledged music news and reviews site, and with my drive and Music Journalism degree behind me I aim to push DEAD PRESS! into becoming the one-stop source for music news and information for the world over.
---
Tony Bliss
News Editor
D.O.B: September 2nd, 1988
LOCATION: Norfolk, UK
EMAIL: tony.bliss@deadpress.co.uk
WEBSITES: Facebook, Twitter, Last.FM
FAVOURITE GENRES: Extreme Metal, Post-Hardcore, Metalcore
FAVOURITE BANDS: The Black Dahlia Murder, Converge, Between The Buried And Me, Underoath, Opeth
FAVOURITE ALBUMS: Converge – 'Jane Doe', The Black Dahlia Murder – 'Nocturnal', Megadeth – 'Rust In Peace'
BRIEF BIO: After beginning to write about music at university, I decided to branch out a little further and thankfully landed a spot as a reviewer for DEAD PRESS! in early 2011. Now with a position as News Editor, I hope to use my skills to enchance DEAD PRESS!'s status as one of the fastest growing and reliable webzines out there, as well as ranting and raving about the music I love and loathe.
---
Dom Wyatt
Marketing & Advertising Manager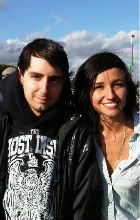 D.O.B: October 29th, 1989
LOCATION: Manchester, UK
EMAIL: dom.wyatt@deadpress.co.uk
WEBSITES: Facebook, Twitter, Tumblr, Last.FM
FAVOURITE GENRES: Hardcore, Metalcore, Pop-Punk
FAVOURITE BANDS: Paramore, Dirty Money, Parkway Drive, You Me At Six
FAVOURITE ALBUMS: Paramore – 'All We Know Is Falling', Parkway Drive – 'Killing With A Smile', Touche Amore – '…To The Beat Of A Dead Horse'
BRIEF BIO: This is my second stint at writing for DEAD PRESS! now, and I'm probably one of the more regular contributors you'll find on here, and the one who is more often than not reviewing the heavier bands and releases we cover. To date I've seen around 400+ bands live and met many others countless times, including the lovely Lights as you can see in my profile photo. In my spare time I am also putting on touring bands in Manchester at various venues. It should also be noted that I have a slightly unhealthy obsession with Lights, Hayley Williams and Cassadee Pope.
---
Contributors
Below, you'll find a list of all our current contributors and what they do to make DEAD PRESS! the site that it is. Though it'd be impossible to list every contributor who has been with us in the past, we'd like to thank any help anyone has ever provided to us in any way.
Writers:
Andy Roberts
Caitlyn Dewar
Calv Robinson
Fin Murphy
Greg Spencer
Jack King
Jonathon "Narlow" Barlow
Kieron Chastney
Laurence Kellett
L.E.D.
MG Savage
Michael Heath
Paige Bennett
Ryan De Freitas
Ryan Williams
Sian Hodkins
Steven Potter
Yasmin La Ronde
Photographers:
Alessia Cifali
Alex Youell
Claire Simmons
Connie Taylor
Harriet Denton
Ian Taylor
James Thompson
Jemma Dodd
Jonathan "Joni" Andrews
Leah Jones
Sam Belcher
Sam Wilkinson
Sarah Seal
Suki Deen
If you would like to join the DEAD PRESS! team, please head over to our jobs page (here) and see if there are currently any positions that you would like to apply for and how to go about applying for them.