Slam Dunk Festival 2012!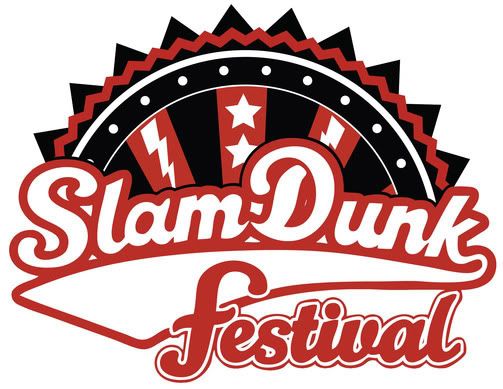 Again back with two dates, accomodating both the North (Leeds) and South (Hatfield) sites, Slam Dunk remains as the UK's strongest pop-punk orientated indoor festival. This time coming with a line-up catered for those a bit more into the heavy side of things, with sets from the likes of Every Time I Die, Architects and Gallows to name but a few, 2012′s festivities could well be the best one yet.
FESTIVAL LINE-UP:
You can view the festival's full line-up on the official poster below. Click on the image to view it in a larger size.

BAND PREVIEWS:
We're going to be running mini-interviews with a bunch of bands on this year's line-up on the run up to the festival, so you can read up on some bands you may be curious about and unware of, or even find out what your faves have in store for you:
Don Broco
Every Time I Die
I See Stars
It Boys!
Marmozets
MC Lars
Say Anything
Taking Back Sunday
The Word Alive
PRINT-OFF TIMETABLE:
To help you plan out your day and ensure you can catch all the bands you want to see, we've made this print-off timetable of the set schedule for the day at both sites. All you have to do is download, print and try and make the best of any clashes:
North (Leeds) full timetable .doc – DOWNLOAD!
South (Hatfield) full timetable .doc – DOWNLOAD!
BAND SIGNINGS:
A bunch of bands will be doing signing sessions on the day at various tents. Click on the links below to see what tent is hosting signing sessions from which bands:
Atticus Clothing – here
Honour Over Glory – here
Macbeth/Keep A Breast – here
FESTIVAL REVIEW:
Though we'd have loved to cover both the North and South dates of the festival, sadly we could only cover the North. So here's our review of all the bands we were able to catch:
North – Click here!
PHOTO GALLERY:
We managed to get some shots of a bunch of bands during their sets throughout the day. Who knows? You might see you and your friends somewhere in the crowd too! Check 'em out and see:
North – Click here!
ACOUSTIC SESSIONS:
We managed to bag two exclusive acoustic video sessions with two up-and-coming bands from the Red Bull Bedroom Jam stage. Links to the videos for you listening/viewing pleasure can be found below:
Strangle Kojak – Afterparty (here)
Mechanical Smile – Take Me To The Otherside (here)
SPOTIFY PLAYLIST:
To keep our coverage strong this year and as huge fans of the festival and the bands the organisers put on, we've composed a little playlist on Spotify featuring some of the great bands playing across the festival. So, if you've got Spotify, whack this on and crank it up.
Slam Dunk Festival 2012 playlist by DEAD PRESS!
As you can see, this year's Slam Dunk Festival is set to be the absolute cat pyjamas. If you're not there, then you'd better have a bloody good excuse lined up. Get involved with our official live Twitter feed throughout the day and maybe – just maybe – we'll see you there!