Costumed up as always, The Aquabats have announced details for their upcoming full-length album, including album cover artwork and full tracklisting. The album is entitled 'Hi-Five Soup!', and is set for release on January 18th 2011 through Fearless Records.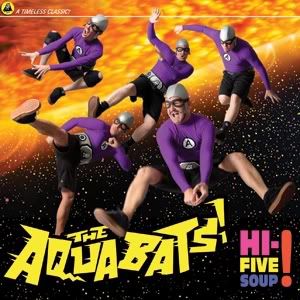 01.) The Shark Fighter!
02.) B.F.F.!
03.) The Legend Is True!
04.) Radio Down! [feat. Biz Markie]
05.) Poppin' A Wheelie!
06.) Hey Homies!
07.) In My Dreams!
08.) Just Can't Lose!
09.) All My Money!
10.) Pink Pants! [feat. Strong Bad]
11.) Food Fight On The Moon!
12.) Luck Dragon Lady!
Founder & Editor for DEAD PRESS! | Atheist and antitheist. | Judge of the quick & the dead since 1989. | Aspiring freelance pizza eater.