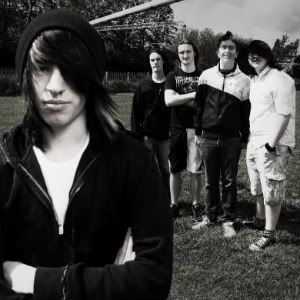 Date: October 13th, 2009
Venue: The Norfolk Inn, Stoke-on-Trent
Support: Drederick Tatum, Hyde
Rating: 7/10
Website: None available
MySpace: www.myspace.com/titleofinjustice
The Norfolk Inn is soon to be shut down, and is hosting its last few gigs during October 2009; one of which being Title Of Injustice and others. All bands are going without a mixing desk or stage, and playing straight on the pub floor besides the bar, and straight through amps like a practice session would be.
Chester's Drederick Tatum (***) set things off with a bang. Though the crowd size is minimal, vocalist Gary Challinor and bassist Tom Plant still insist on jumping into people and getting them involved and more lively. The band had to bring in a new replacement guitarist Shaun Hayes (from I, Said The Spy!) for the night, who doesn't seem to have dampened the group's tight sound during songs like 'I Am The British Beyonce'. The lack of spectators though seems to restrict the band's true potential and energy output.
Vocal duties go to a duo effort with Crewe's 5-piece Hyde (***), bringing a more hardcore metal sound with different influences here and there. Songs like 'Beers Galore And Girls On The Floor' offer the crowd a more fun aspect to the whole heavy sound the night seems to focus on, and vocalists Nath and Shane trade roles swiftly like a married couple. Bassist Tom seems to enjoy going mental and twirling his bass in all different directions, almost taking people like it was a spear. Things go to apocalyptic for the band's closer 'There's No Such Thing As An Outro', with both vocalists jumping head first into the audience, bassist Tom rolling around the floor and slamming his instrument to the ground, while guitarist Daniel French soon chucking his guitar alongside it.
Another Crewe-based metal band Title Of Injustice (****) are set to finish one of the pub's final nights off, and though do so with a title of justice. Drummer Mat Capper's ability, and the guitar works of Scott Chesworth and Rowan Eason overshadows their ages, and show that even the youngest of musicians can show promise for something in the future. Though not quite as energetic as the frontmen from the previous acts, Shaun Povall still manages to hold his own equipped with his strong vocals. At one point he climbs up on a set of stage speakers before jumping off in front of the small crowd, and gives an unnatural but comforting charisma. The crowd-participating 'Enemy' doesn't draw much of an input from the audience, but none the less reveals a great songwriting ability the band owns.
Maybe not the most packed out of gig nights, and maybe not the most popular or well-kept venues on offer, but the local acts that played there that night have given The Norfolk Inn a send-off it should be more than proud of.
Written by Zach Redrup
Founder & Editor for DEAD PRESS! | Atheist and antitheist. | Judge of the quick & the dead since 1989.