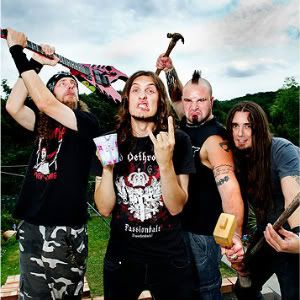 Date: October 16th, 2011
Venue: White Rabbit, Plymouth
Support: Savage Messiah, Huron
Website: www.evile.co.uk
MySpace: www.myspace.com/evileuk
Rating:


With a triad of albums to their name, Evile are fast setting themselves out at the forefront UK thrash scene, revival, call it what you will. Their third release comes in 'Five Serpent's Teeth', an album that we have favoured well in the past weeks, scoring it a respectable 8/10.
Plymouth locals Huron (**) open proceedings today, and it's not hard to see why. With a sound closely mimicking Pantera and Machine Head (they've never even heard of those bands, honestly), they fit in well on the bill as a nice warm-up. They lack any real edge to their music though; the stuff that's familiar is pulled off well, but as soon as they try to add in a unique touch it doesn't work well. The good crowd (for a Sunday night) seem to be enjoying it though.
Earache newboys Savage Messiah (****) are a band that I hadn't heard of before today, and with under 2000 listeners on Last.fm it comes as a nice surprise when they play through a blinding set of 80s thrash a la early Anthrax. Denim clad and long haired, they look the part, and the similarly dressed guys in the pit don't stop smashing into each other and terrifying the younger fans throughout the half hour. Having been signed only recently, their new album is due to be out sometime come next year and on tonight's showing it would not be a surprise if it is a blinder.
It's no doubt who everyone here tonight is here to see though, and as Evile (*****) walk out they are greeted with a strong crowd. It's easy to sound stale in this genre, but Evile stand above their peers in technical proficiency and grooving, pounding riffs. Seamlessly blending in songs from the new album, 'Eternal Empire' and 'Five Serpent's Teeth' go down well, as does fan favourite 'Cult'. The older songs don't sound dated either, with 'Enter The Grave' and the excellent 'Thrasher' pumping up the crowd just as much. A tired looking Ol Drake complains that his voice is about to go but he soldiers through with no obvious dip in performance. It's a shame then after such a blistering set that the encore is cut short by a fat fuck tripping over the bass lead and dragging Joel Graham to the floor whilst trying to stage dive. The band handle the incident well though, and I just hope that the bass isn't smashed up too much for the rest of the tour. To the wannabe stage diver: drink less, you plonker!
Evile are midway through a daunting 15-date schedule with only one rest day, so hopefully fatigue won't be a factor later on in the tour. For dates, go to their Facebook.
Written by Martin Savage
Founder & Editor for DEAD PRESS! | Atheist and antitheist. | Judge of the quick & the dead since 1989. | Aspiring freelance pizza eater.