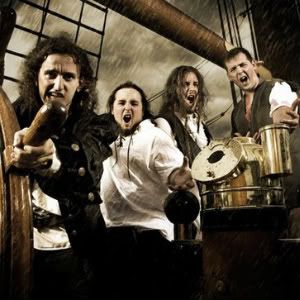 Date: February 4th, 2012
Venue: White Rabbit, Plymouth
Support: Claim The Throne, Darkest Era, Huron
Website: www.alestorm.net
Facebook: www.facebook.com/alestormband
Twitter: www.twitter.com/alestormband
Rating:


Plymouth appears to be the only place in the UK that isn't snowed under, and that actually turns out to be lucky for the first date of Alestorm's "Useless Drunken Bastards" tour. Now on their third album of pirate themed folky power metal, they are renowned for their party atmosphere at gigs. As it is, everyone loves dressing up as a pirate for some reason, so they've managed to build on a niché that is always gonna be successful. Luckily, they can back it up with good song writing skills and catchy drinking anthems that are easy to sing along to. Even if every song pretty much sounds the same.
We are greeted by a huge queue, the longest that I've ever seen at the White Rabbit that must contain 200+ people. Many of them are wearing Huron t-shirts; the Plymouth-based band were supposed to be opening the gig, but sadly just end up playing to an empty room as nobody is let through the doors. A fuck up on the part of Advance Promotions, it seems.
Luckily, the rest of the night goes without hitch and it's Darkest Era (***) who come out to an absolutely rammed room. The Belfast natives play folk metal much along the lines of Primordial and Mael Mordha, maybe lacking as much oomph as those bands though. Nonetheless, they play a solid half hour and appear to go down well amongst the crowd. They should have gained a few fans at least, and will no doubt gather more as the tour goes on.
Continuing the international taste are Australians Claim The Throne (***). Sounding kinda like a heavier version of Alestorm (vocals wise anyway), the accordion mozies out and causes spontaneous jigs to break out in places. Frontman Baronaxe pleads with the crowd "Make some noise, ya nerds" true Aussie style, and gets a good reaction as servings of melodeath are thrown into the mix.
But, Alestorm (****) are who everyone are really here to see, and they whip up the crowd into a puddle of sweat to combat the cold outside. Opening with 'Shipwrecked' and the excellent 'Wenches And Mead', they effortlessly conjure the crowd into singalongs. They're the sort of band that when you're tiring reaching the end of the gig are able to bring out another brilliant song to call on that last ounce of energy that you have. Just when you think it's all over, they bring out 'Captain Morgan's Revenge' and 'Death Throes Of The Terrorsquid' with a black metal section that would rival Immortal themselves. They end by giving the crowd a choice between 'Rum' and 'Set Sail And Conquer'. It's obvious which one wins out, so the night ends with a hardy singalong of "rum, rum, rum, aaaarrgghh".
Written by Martin Savage
Founder & Editor for DEAD PRESS! | Atheist and antitheist. | Judge of the quick & the dead since 1989. | Aspiring freelance pizza eater.