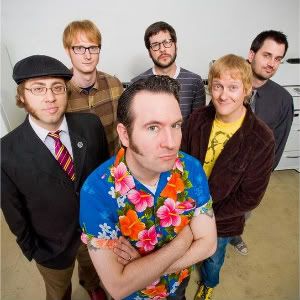 Date: February 27th, 2013
Venue: HMV Ritz, Manchester
Interviewer: Andy Roberts
Format: Audio
Website: www.reel-big-fish.com
Facebook: www.facebook.com/reelbigfish
Twitter: www.twitter.com/reelbigfish
Huge forerunners of the ska punk genre, Reel Big Fish are now eight studio albums into their career and, despite falling from their mainstream major label days, the band have always held onto their underground die-hard fans. Always returning to the UK for headline tours at the beginning of the year, we jumped at the chance to speak with drummer Ryland Steen to talk about their latest record 'Candy Coated Fury', how the tour has been going, his favourite swear word and more.
YOU CAN WATCH/LISTEN TO THE INTERVIEW BELOW:
You can also read our review of the band's performance that night by clicking here.
Written by Zach Redrup
Interview by Andy Roberts
Founder & Editor for DEAD PRESS! | Atheist and antitheist. | Judge of the quick & the dead since 1989.