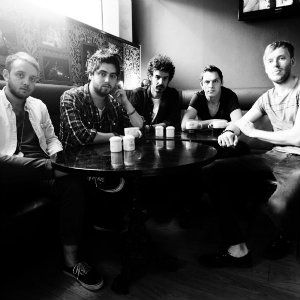 Date: August 5th, 2012
Venue: Hevy Festival, Kent
Interviewer: Zach Redrup
Format: Written / Audio
Website: None available
Facebook: www.facebook.com/nevermeansmaybe
Twitter: www.twitter.com/nevermeansuk
Despite going on several high profile tours, it's a shame when bands as talented and as hard-working as Essex outfit Never Means Maybe don't quite break through as some of their counterparts. However, with a new album coming shortly, it seems all is about to change. Following an energetic set at this year's Hevy Festival, we spoke to the guys about their upcoming album, being caught with their flyers undone, drinking Jagermeister and more:
YOU CAN LISTEN TO THE INTERVIEW HERE:
DP!: You performed your set at this year's Hevy Festival earlier this weekend, how do you feel it went?
Matt: It was wicked. Really, really good. Considering we were opening the stage, it was a lot of fun. So yeah, can't really complain. A bunch of people began walking in as our set went on.
Renz: We had a few hiccups, like breaking a snare drum.
DP!: Yeah, I think I saw you break one of the drum sticks.
Renz: Yeah, I broke one of the sticks I was using, and my flyer was undone for half of the set too which is good.
Matt: Yeah, we just got informed in another interview that Renz had his flyer open for the first few songs.
DP!: You didn't even know?
Renz: Nah, I didn't even notice.
Matt: After we were done, the interviewer was like "oh, I noticed you had your flyer undone". He was like "Great, what were you doing looking at my penis?"
Renz: It's like "Hey, eyes up here".
DP!: What is your drink of choice when you're at a festival like this?
Renz: Yeah, we are Jagermeister brothers.
Matt: We're endorsed by Jager.
DP!: So, it's just Jager, Jager, Jager?
Matt: We have a bottle per show.
Renz: It would be bloody rude not too.
Matt: Anything that goes with Jagermeister tends to get drunk, sometimes just Jagermeister, like air and Jagermeister.
Renz: Tropical fruit juice and Jagermeister goes down pretty well. It's a really good mix.
Matt: There's your standard Red Bull.
Renz: Milk and Jager is probably one of our worst ones.
DP!: Milk?
Matt: Yeah.
Renz: There's cherryade, Irn-Bru.
Matt: Wine.
Bert: I was down at the pub the other day and this one dude was doing Jager with egg. Like an egg Jager shot.
DP!: Mountain Dew and Jager I've found is a good combination.
Renz: Ahh, Mountain Dew.
Matt: Mountainmeister, yeah.
DP!: You've just made a new drink there.
Matt: Yeah. You just take the first word/name of either Jagermeister or the drink. Put the two together and it works. Yeah, Jagerdew… wait, that sounds like a whole different thing.
DP!: So you're all pretty big Jagermeister fans then?
Matt: Yeah, well, I don't drink.
Renz: But don't worry, we all make up for it.
DP!: You guys have been here all weekend. Who else have you managed to catch over the weekend?
Renz: Andrew WK. Oh my god, that was so much fun. Possibly life changing. I loved him. Glassjaw were very good.
Matt: The thing is though, for Andrew WK, Bert ended up on the barrier in just a body warmer because he'd taken his t-shirt off and was swinging it around his around.
Bert: And it wasn't even my body warmer.
Matt: Yeah, it wasn't even his body warmer.
Renz: Bury Tomorrow were really good, and Devil Sold His Soul were brilliant.
Matt: Yeah, Devil. We watched Mallory Knox earlier this morning. They were ridiculously good. We watched I Divide yesterday too.
Bert: And Adelaide.
Matt: Yeah, Adelaide. We like to catch up with all of the other bands on the Red Bull Bedroom Jam stage, obviously. Loads of good bands. As always, Hevy have put together a fantastic line-up.
DP!: I think I remember a few years ago that you guys did a co-headline tour with Bury Tomorrow?
Renz: Yeah, we did. We supported.
Matt: I think that was about 3 years ago.
Renz: Good knowledge there, good knowledge.
Matt: It was on the Scuzz Obscure tour, and it was. We just played these random towns, like Scunthorpe for example.
Bert: We played with While She Sleeps quite a lot on that tour as well.
Matt: Yeah, While She Sleeps played like three times.
Renz: They're both doing alright now.
DP!: Speaking of tours, you've got one coming up soon with Soil, Fozzy and Breed 77. Are you guys looking forward to that?
Renz: Very much so. It's just going to be nice to be able to tour again. We haven't toured for… when was the last time that we toured?
Matt: We did a little one at the beginning of the year. That's the thing, we've been really busy writing. We're going to record our album in the next six to eight weeks. On that tour there's some sweet venues, some cool towns to play and we get to play with Chris Jericho and Soil. So I don't really see any negatives for it. It's a good opportunity for us as well because it's a different kind of crowd. It's an opportunity to play to people that might not have normally come to see us.
DP!: A chance to build and expand the fanbase.
Matt: Exactly.
DP!: You mentioned the new album earlier, how is work coming along with that so far?
Bert: We're about 13 tracks in to choose from. I reckon we're going to write a couple more and should be recording it within the next couple of months.
Matt: We're going to record it with Mike from Fei Comodo… RIP. Yeah, he just lives in Chelmsford, so he's not dead. Fei Comodo just split up.
DP!: Yeah, it would be kind of hard to record with a dead guy.
Matt: Yeah, it'd be cheaper though. We recorded our EP with him, so we're going with him for the album too. He's a legend and he knows us very well, so we're looking forward to that.
DP!: How does it stand against your EP? Is it bigger, or heavier, or is there a change in sound?
Renz: It's basically the EP, but longer and with more songs. It gives out a broader spectrum.
Matt: It's an extension of what we've already done before.
Renz: There are heavier songs. There are songs which are a lot lighter.
Matt: We've got a new single coming out next month, called 'The Tide', which we played on Friday. That's sort of more towards the lighter end of what we do. It doesn't mean that we're not going to have the heavier material on there though. At the end of the day, it's our band and we'll write what we want to write.
Renz: Exactly. You tell 'em man.
Matt: I just don't see the point. Why do you have to limit yourself to like "oh, you can't do that. You can't do that".
DP!: Being stuck in what you're already known for.
Matt: Exactly. Sod it. We played the set and the first song we had was loads of screaming, then the next song had none of it. I don't know why people pigeon-hole bands all the time.
DP!: It's the last day of the festival, what are you guys doing for the rest of the weekend to finish it off?
Matt: We're probably going to pass out.
Bert: It's getting late so we're going to drink a lot of Red Bull.
Matt: A lot of Red Bull and a lot of water.
Renz: We've still got a few more interviews to do and stuff and then we might be heading home.
Matt: Yeah, I've got work again tomorrow. Real work. I mean, obviously, this is my real job. It's not like "oh, I've got a hobby to go to".
DP!: What is your hobby exactly?
Renz: He loves filing.
Matt: Yeah, I just love filing and answering phone calls and doing a lot of typing.
Bert: It's a real passion of his.
Matt: It gets in the way of the band sometimes.
DP!: Which is your shitty day job.
Matt: Yeah. Sometimes I'm like "ugh, I've got to go and play a shitty festival". But don't worry, Monday to Friday I get to do my hobby all week long.
Renz: That's a great way of looking at your life.
Matt: Well, if I don't look at it in that way I might shoot myself.
DP!: So what else do you guys have planned for 2012?
Matt: I think we've covered everything.
Renz: Yeah, I think we've covered all of the major points for the rest of the year.
Matt: The single coming out; that's the next big thing for us. We've just shot a video for it, and then we're going off to do the album. We've got a couple of one-off shows. We're actually doing a headline show at The Garage in London, which is quite a big deal for us so I'm quite excited about it.
Bert: We've never played at The Garage before
Matt: Yeah, so to be headlining it is pretty cool. To be fair, I think it's the album and then the tour and then looking towards 2013. Like, hopefully we'll be going back to Europe at the start of next year. Just some more good times really.
DP!: Any closing words for the readers?
Renz: Love you. Love you.
Matt: Take up filing. It's wicked.
Renz: If you ever feel like checking us out, we're on Twitter and Facebook.
Matt: Yeah. Check out the single, pick up the new album once it's out and come and see us on tour.
You can also read our review of the band's festival performance that day by clicking here.
Written by Zach Redrup
Interview by Zach Redrup
Founder & Editor for DEAD PRESS! | Atheist and antitheist. | Judge of the quick & the dead since 1989.