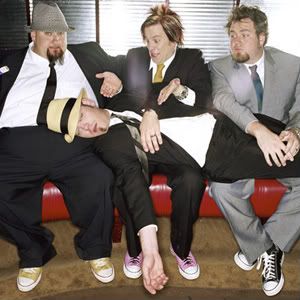 Date: October 20th, 2012
Venue: Academy 1, Manchester
Interviewer: Andy Roberts
Format: Audio
Website: www.bowlingforsoup.com
Facebook: www.facebook.com/bowlingforsoup
Twitter: www.twitter.com/bfsrocks
Pop-punkers Bowling For Soup have always been a staple addition to anyone's pop-punk diet. Returning to the UK for a headline run towards the end of each and every year, we caught up with bassist Erik Chandler this time around to talk about what he loves about visiting the UK, what he misses whilst out on the road, how their compilation album 'One Big Happy!' came to be and a lot more:
YOU CAN LISTEN TO THE INTERVIEW HERE:
You can also read our review of the band's performance that night by clicking here.
Written by Zach Redrup
Interview by Andy Roberts
Founder & Editor for DEAD PRESS! | Atheist and antitheist. | Judge of the quick & the dead since 1989.