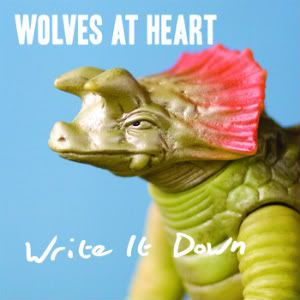 Release Date: March 31st, 2011
Label: Unsigned
Website: www.wolvesatheart.com
MySpace: www.myspace.com/wolvesatheart1
Rating:


Wolves At Heart's new self-released EP 'Write It Down' has a very youth pop-punk sound, bringing a very energetic and upbeat style of pop-punk, though sadly it's a very generic offering that has been done over and over before, and ultimately sounds pretty washed up and regurgitated.
The release is full to the brim with the concepts of tackling problems that occur in most young adults, with ideas of getting in your own way and growing up being a focus point in the lyrics of songs; typical to pop-punk really. It all flows well over the top of the enjoyable beats and riffs that occur with Wolves At Heart.
As already mentioned before, their sound is very generic, and you can easily guess where their influences lie, which is not generally a bad thing, but new bands that are emerging now need to try bring something new to the equation, something that will attract the listener away from the larger artists like New Found Glory and The Starting Line. This is certainley something that the band does not have.
Trying to create something truly original and artistic is a challenging feat, but as this is a problem every small band needs to compete with Wolves At Heart have to do something better than this, as this sound has been replicated many a time. I can anticipate that most listeners will just go for the renowned artist that has been proven to work over a smaller band such as these.
Overall it's not a terribly bad listen, but it sure isn't quite good enough to take me away from the larger established acts that this band has taken its sound from. Genericy and predictability is what leaves Wolves At Heart stuck in the swallowing tides of pop-punk acts cropping up over and over again.
Written by Julian Myles
Founder & Editor for DEAD PRESS! | Atheist and antitheist. | Judge of the quick & the dead since 1989.