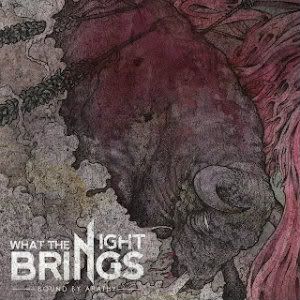 Release Date: April 9th, 2012
Label: Down To 3 Records
Website: www.mollyleigh.com
Facebook: www.facebook.com/mollyleighband
Twitter: www.twitter.com/mollyleighband
Rating:

Horns raised and hailing from Aylesbury, Buckinghamshire, What The Night Brings bring to the table their second EP, 'Bound By Apathy'. Since their formation in 2008, following a few small releases, several line-up changes and numerous big shows with bands such as Protest The Hero and Your Demise, new four-track 'Bound By Apathy' is a release awaited with baited breath.
'Deus Ex-Machina' is first up. Gang vocals, speeding up, slowing down, there is something for every fan of metal and hardcore in this track alone. It's refreshing to be listening to a track or record as heavy as 'Bound By Apathy' and be proved incorrectly in regards to where you expect a breakdown to be. All in all, an absolute banger of a track that leads perfectly into the two-stepping 'Front Towards Enemy'.
'Front Towards Enemy' is six and a half minutes that gives something back to the hardcore kids. From its intro, it's clear that the track is heavily influenced by the UK's own Your Demise and metalcore Aussies Parkway Drive, which on this occasion is definitely a good thing.
'Barren' immediately catches the attention of the listener. The Johnny Truant-esque riffing and August Burns Red-esque vocal phrasing and style is enough to give any typically critical metal kid an urge to nod their head and swish their greasy locks around. Heavy, relentless and most importantly, interesting. It's certainly good to hear a heavy as fuck band that doesn't become repetitive and/or incoherent.
Final track 'The March That Makes A Man' is intricate, fast and technically impressive. Following a similar vein to the rest of the record, it speeds up, slows right back down only to speed up yet again. This keeps the listener on tenterhooks and I'd be lying if I didn't say that I was almost squinting, waiting for the track to pick up pace from one of the numerous breakdowns.
What The Night Brings do not and have not taken the easy way out. Every track on 'Bound By Apathy' is technically brilliant, appealing and relevant. Definitely a band worth checking out.
Written by Luke Davis
Founder & Editor for DEAD PRESS! | Atheist and antitheist. | Judge of the quick & the dead since 1989.