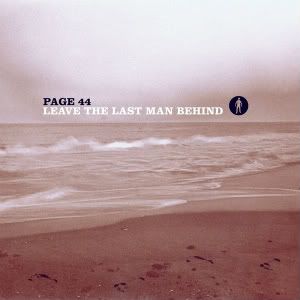 Release Date: February 5th, 2012
Label: Unsigned
Website: None available
Facebook: www.facebook.com/page44official
Twitter: www.twitter.com/page44uk
Rating:


It's always exciting to hear a record from some fresh new faces on the scene, but when this new arrival offers little in the form of a fresh and exciting sound, it can be slightly disappointing. However, when a record as catchy as 'Leave The Last Man Behind' is produced, the predictability of its sound can be overlooked.
After winning the Red Bull Bedroom Jam in 2011, things were looking up for the Birmingham pop-rock quartet. After playing slots at some of the nation's biggest festivals, including Download and Sonisphere, as well as embarking on a UK tour with The Blackout, We Are The Ocean and Canterbury, Page 44 had a lot of experience finding out just what it's like to be in a successful pop-rock band.
The influence of their touring buddies definitely shines through on their debut EP, 'Leave The Last Man Behind'. Opening track 'Answers' echoes the likes of We Are The Ocean and Lower Than Atlantis and is definitely one of the strongest tracks on the record. It's basic and predictable in its outcome, but catchy and pleasing nonetheless. It has the potential to become a big hit, with catchy guitar riffs and ear-friendly harmonies.
As for the rest of the tracks on this EP, the band fails to raise above the benchmark they set on the opening track. 'Closer' is a slightly more mature sound, but fails to reach the same level of catchiness and energy that was found on the opener. 'Watch Me Fade' is another track that falls into the same old generic pop-punk sound that formula. But, despite its slightly predictable elements, there's something there that tells you that this band does have potential and are able to write a decent song that can be listened to very easily.
It doesn't stray from the generic formula, but 'Leave The Last Man Behind' is undeniably catchy. Page 44 are a band that do have the potential to create a hit and with a bit of work and adventurous attitude, they could be brilliant. If you scratch away at the surface, you'll find that they are extremely talented musicians, they just need to let it shine through.
Written by Ashleigh Wight
Founder & Editor for DEAD PRESS! | Atheist and antitheist. | Judge of the quick & the dead since 1989. | Aspiring freelance pizza eater.