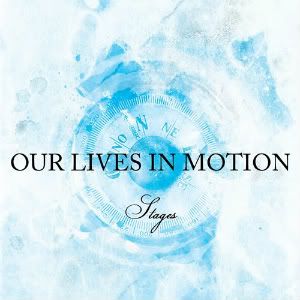 Release Date: May 3rd, 2011
Label: Unsigned
Website: None available
MySpace: www.myspace.com/ourlivesinmotion
Rating:


In 2010, Our Lives In Motion dropped their debut EP 'Salvation In Secrets', a solid rock album that was hit with fans of Circa Survive and Anberlin. 2011 sees them taking a slightly different approach with their sophomore effort, 'Stages'. It seems like a slightly watered-down version of their debut, taking on a somewhat more pop sound for the masses, but yet, still a sound, talented record.
Produced by Brooks Paschal (Paramore, There For Tomorrow), 'Stages' isn't a lot different from other generic pop-punk records out there and this EP certainly isn't anything we haven't heard before. It could easily be another Mayday Parade or Futures record, displaying the same pop-punk bounce and melodic vocals we all know and love. However, it definitely shows potential from the Massachusetts four-piece, presenting a lively spark and passion for what they do, which explains why they were among PureVolume's Top Unsigned Artists of 2010.
The 'Stages' EP is definitely set to be a hit with the younger generation of pop-punk fans. The passionate 'Unstoppable', with its sing-along chorus, and 'The Rescue' with its mosh-friendly opening riff are certain to become live favourites. David Beaudreau's voice has an outstanding range, and at times his vocals could easily be mistaken for that of Fall Out Boy's Patrick Stump.
It is certainly a very solid EP, with no criticisms other than it would be nice to hear something different from this genre of music. Other than that, including an instrumental 'Prelude' in a six track EP does seem to serve little purpose, and another quick-paced rock track would have been a welcome effort. Maybe if this was a ten track album then the prelude would be a nice touch.
It's actually surprising that these guys are still unsigned, as they do show a lot of potential in a genre that young people seem to be eating up these days. Maybe this EP will broaden their horizons and improve their chances of being snapped-up by a record label, but until then, Our Lives In Motion will continue to excel in doing what they do best: creating fun, radio-friendly, faultless pop-punk.
Written by Ashleigh Wight
Founder & Editor for DEAD PRESS! | Atheist and antitheist. | Judge of the quick & the dead since 1989.