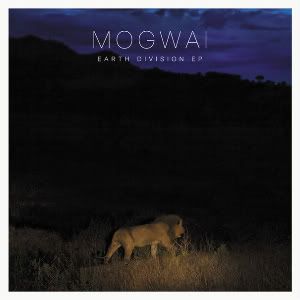 Release Date: September 12th, 2011
Label: Rock Action Records
Website: www.mogwai.co.uk
Facebook: www.facebook.com/mogwai
Rating:


Mogwai's latest is less of an EP and more akin to some post-hoc extension to their recent long player, 'Hardcore Will Never Die, But You Will', released in February of this year. Each of the four portions of 'Earth Division' come from the album's recording sessions, and were originally contenders for inclusion on its track list.
This back-story preamble goes someway to explain the disparate lack of continuity to the EP's running order. 'Earth Division' is by no means a weak release but it does feel strangely hollow, as if some generous amount of space has been reserved for something all together less audible. Throughout, your mind's eye attempts to assemble some sort of accompanying cinematic imagery for the ever-vivid music to score. Each of the EP's four segments feel more like contextualised cues of a soundtrack rather than self-contained pieces of music in their own right.
Contrasts abound throughout the sixteen-minute running order. From the tender and haunting 'Get To France' – the potential backing music to some canny traipse through an eerily pretty Teutonic day dream of gloomy expressionist forests – to the soft-bleed, panting distortion glazer of 'Drunk And Crazy', 'Earth Division' feels more like a collection of select off-cuts and toyed experiments.
As a cache of loose material, it's far from coherent or consistent in its vision or general direction. Instead, its broad assortment of ideas and threads spiral out, unmolested, to their own naturally stunted conclusions. Second track, 'Hounds Of Winter', an illustration of the band's growing appetite for acoustic arrangements, feels oddly unfulfilled in its bubbled isolation in the midst of the tracklist.
'Earth Division' is an unresolved exhibition of unanswered inspirations and fertile potential yet to be properly explored. It lacks the creative correlation and lucid focus of a more coherent or extensive release that would have allowed its ideas to flourish. Instead, we have a four-part collage of half-filled sketches that fall short of the standards of clarity and depth that Mogwai have set themselves with their previous releases.
Written by Greg Johnson
Founder & Editor for DEAD PRESS! | Atheist and antitheist. | Judge of the quick & the dead since 1989. |