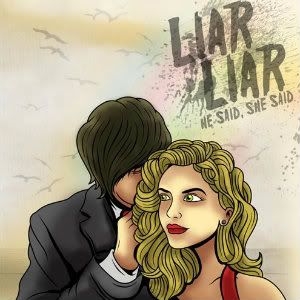 Release Date: November 5th, 2012
Label: Unsigned
Website: None available
Facebook: www.facebook.com/liarliarmusic
Twitter: www.twitter.com/liarliaruk
Rating:


Sheffield pop-punk outfit Liar Liar sound like they've come straight from the Teen Choice Awards with their thematically safe song lyrics, middle of the road pop-punk style and the slightly overbearing use of auto-tune. You'd think that 'He Said, She Said' would be somewhat of a disaster, but if it's aimed at the young teen market, it works solidly on that level.
There's nothing here that we haven't already heard a million times before. It's frothy pop-rock with absolutely no threat or real anger. You can either choose to be really cynical and hate every inch of the EP, or just go with it and take it for what it is; something that isn't a particularly serious set of songs yet all delivered with solid punk rock riffs and poppy choruses. The problem with the songs seeming so infantile is that All Time Low did this sort of thing seven years ago, which makes the EP sound seriously dated.
There are hints all over this EP that the band are talented. 'People Never Change' is a track which is catchy and genuinely sounds sincere and heartfelt. However, any connection you might feel with the song is spoilt by the influx of auto-tuned vocals which simply cheapen the sound and makes you wonder what possessed them to use it. It's something that's common in a fair amount of bands coming out of this genre, but that doesn't change the fact that it ruins these songs for the most part.
There are plenty of hooks here, but it's like watching a local band at a sixth form party; the music feels censored and safe as the band don't want to offend anyone listening. You just want Liar Liar to go for the jugular and land a knockout blow on any one of the tracks, but everything's so mild and mundane that there's never a feeling the band are going to do anything radical or exciting at all.
Written by Greg Spencer
Founder & Editor for DEAD PRESS! | Atheist and antitheist. | Judge of the quick & the dead since 1989. | Aspiring freelance pizza eater.