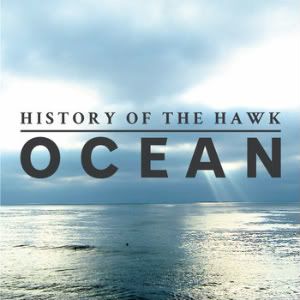 Release Date: October 17th, 2011
Label: In At The Deep End Records
Website: None available
MySpace: www.myspace.com/historyofthehawk
Rating:

Right from the get-go, it's pretty clear that this is a very neat debut EP from the Stourbridge five-piece, History Of The Hawk. The best way to describe this would be Bring Me The Horizon, meets Lower Than Atlantis, meets The Rezillos. This is post-hardcore with a punk influence, and it works pretty well actually.
Opener 'X Is The New Y' is an eloquent build-up to an otherwise wild EP, hinting at what is about to audibly assault the listener, this would make a crisp opener to almost any gig – controlled build up to a wild, energetic crescendo – and bursting into 'Freyer'; the definition of this band in one song. If you only listen to one song on this EP, this is the one. It's aggressive, it's edgy, it's hardcore music with a punk attitude, and the limited production values only add to this – it's a very intimate, yet explosive EP.
'You, Me, Let's Cyberside Baby' and 'Parisians' follow a similar track to 'Freyer', a rather Biffy Clyro-esque structure, of a controlled intro, almost lulling you into believing this is easy listening prog-rock, which then descends into chaos, but chaos of the finest form, with intricate key changes and time signatures, this is so much more complex than meets the eye. 'Social Heat' however, is just a punchy, punk song, energetic and snappy, and the closing song showcases the clean vocals that this quintet possess, showing a completely different side to History Of The Hawk.
Ability is here in abundance, this is probably as good a debut EP as you will hear in a long time, definitely worth listening to. With this debut, the band seem to be out to prove to be more than just a hardcore band.
Written by Gary Cassidy
Founder & Editor for DEAD PRESS! | Atheist and antitheist. | Judge of the quick & the dead since 1989.