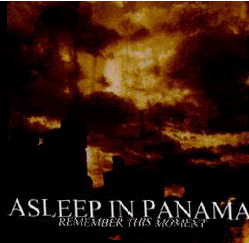 Release Date: January 4th, 2008
Label: Unsigned
Website: None available
MySpace: www.myspace.com/asleepinpanamamusic
Rating:

Asleep In Panama from Holmes Chapel in the UK, release their demo entitled 'Remember This Moment'. Their package being heavy and progressive in its dynamics, and showcases musicianship at a decent scale.
Track number one 'We're Only As Sick As Our Secrets' is a track combining vocal layers throughout, providing a brutal and aggressive sound. When there's not clean vocals over harsh, there's just more harsh on top of it. Even towards the end they have spoken words over the original melody of the song. But just because this is the case this doesn't mean this song doesn't have variation within it, with an opening mellow guitar riff and clean harmony sections in-between.
As soon as that ends we move onto 'Bless Heights To Fall Hard', which draws us in with the clean vocal work, before seconds later the screams enter your headphones. Then as soon as that surprise is over they go back into a guitar melody before doing the whole thing over again. It's like the band intend to tug at your heart strings, and then smash you in the face once your in a sense of false security.
Although 'Remember This Moment' is only a short experience, it's one which is created to keep you on your toes and guessing what's just around the corner. It's not just heavy, it's also mellow and dynamic, and shows promise from such a young band. It's worth a listen from any metal, post-hardcore, or progressive fan out there.
Written by Zach Redrup
Founder & Editor for DEAD PRESS! | Atheist and antitheist. | Judge of the quick & the dead since 1989.