June 9th, 2010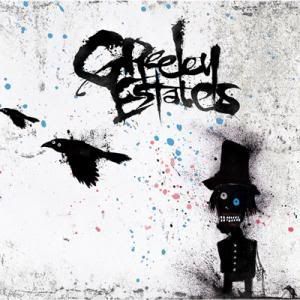 Release Date: May 6th, 2008
Label: Science Records / Ferret Music
Rating: 8/10
Website: None available
MySpace: www.myspace.com/greeleyestates
If the two American post-hardcore bands The Used and Drop Dead, Gorgeous were to somehow gain the ability to have children, their offspring would sound pretty similar to 'Go West Young Man, Let The Evil Go East' by Greeley Estates – which is clearly the heaviest offering this band have unleashed in their career to-date. It's odd for any band today to go from a mellow approach to a much heavier one as opposed to the other way around, and at the same speed of this quintet is an achievement in itself. Just the titles of the tracks themselves, like 'If I Could Be Frank, You're Ugly!', and 'I'll Have To Warn You, This Won't Be Quick' give off an aggressive and hostile impression.
Frontman and lyricist Ryan Zimmerman claimed to have much more concentration and had a lot more patience when writing the album's lyrical content, by making himself wait until a melody was complete before putting pen to paper. The songs themselves also have a darker content to them, and derive a lot from movies and stories Ryan indulged during the creation of the release. Opening track and leading single 'Blue Morning' draws inspiration from the rage-infected zombies that star in 28 Days Later and 28 Weeks Later films, with lyrics like "I'm one of them now / Quarantine me", "You better lock the doors and hide" and "I don't blame you for wanting me dead" putting Ryan in the position of one of these horror characters.
In the area of vocal work, Greeley Estates have pulled out an effort of a haunting and out of place vocal inclusion in the tracks 'Go West Young Man', and 'If We Are Going Out, Let's Go Out In Style' which seem to work surprisingly well for this style of music. The musicianship and talent within the other members, like guitarists Alejondro Torres and Brandon Hackeson with their efforts in songs like 'Mother Nature Is A Terrorist' aren't to go unmentioned or forgotten. The drum work used throughout, espeically in songs like 'You're Just Somebody I Used To Know' keep the power going in this group and hold the jelly of the songs into one.
Greeley Estates aren't the biggest post-hardcore act out their by any means, but their choice and direction of a heavier sound in 'Go West Young Man, Let The Evil Go East' was a smart one. Surely not one to impress those keen on previous releases like 'Secret', but one that will position and mature the band into a recognisable act in the alternative music field.
Written by Zach Redrup