June 9th, 2010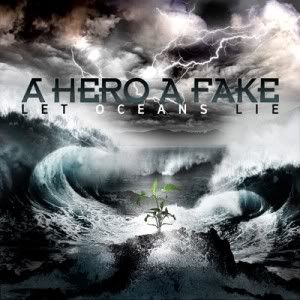 Release Date: January 19th, 2010
Label: Victory Records
Rating: 8/10
Website: None available
MySpace: www.myspace.com/aheroafake
Rather than slamming down a few fistfuls of heavy-as-lead beef to labour through, A Hero A Fake have instead decided to lay on a stylish banquet of 11 accessible yet technical tracks of metalcore for us all to feast on for this, their second album, 'Let Oceans Lie'.
A Hero A Fake's sound lies somewhere between that of now defunct UK tech outfit SiKth, New Jersey's Trophy Scars and the southern rock-styled five-piece that is He Is Legend. It's a potent mix of modern post-hardcore's smooth, energetic melodies and metalcore's clinical punch to the belly impact. The foundations of bass and drums are as solid as you could wish for, allowing the guitarists the space to spray the eardrums with some beautiful and technical interweaving lines that create an intricate, rich web of melodic textures. The vocals work well within the overall sound thanks to some much needed restraint that other bands in this genre often fail to make use of. There's no cringingly ridiculous vocal freak outs here, and you're never left with the sense that the vocalists have outstayed their welcome within any of the songs. The melodic work is held together with some extremely tight rhythms and meandering, twisting song structures that fires you through section after section without overwhelming the listener.
The entire 11 track roster is consistently strong throughout, yet there are some standout moments that deserve particular attention. 'Swallowed By The Sea' is four and a half minutes of engrossing interplay between the melodies of the guitar and the savage beat keeping of the drums that climaxes in an almighty melee that could melt as many faces as you can throw at it. 'Sleepstate' sounds like a machine gun going off in a room full of pop-punk bands with the results super glued together and played until it blisters. The album's title track sounds like the evil yet brilliant mutated half-brother of a Billy Talent song destroying a city. Curtain closer 'A Year In Passing' finishes off the album in a decidedly more civilised manner that manages to create some kind of farewell fanfare without turning everything an unwanted shade of cheese.
'Let Oceans Lie' manages to do metalcore with an accessible edge without weakening the end result. As an album it does everything you'd expect with songs that often do anything but (it even has the quintessential acoustic number on track seven!). A Hero A Fake are clearly a band able to match their ambitions and ideas with their abilities and this, their sophomore effort, is well worth checking out even if their genre usually sends you running to hills.
Written by Greg Johnson