June 9th, 2010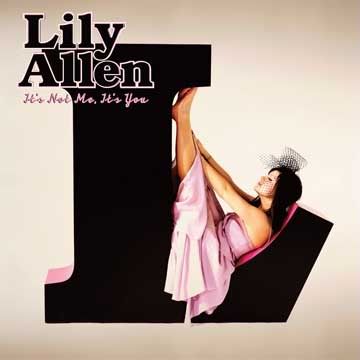 Release Date: February 9th, 2009
Label: Parlophone Records
Website: www.lilyallenmusic.com
MySpace: www.myspace.com/lilymusic
Rating:


It's been a long wait since Lily Allen's debut full-length 'Alright, Still' infected the airwaves across the world and forced us to have singles like 'Smile' and 'LDN' in our heads for hours on end. Since then a few things have happened in Lily's life, not all necessarily positive, which in turn has helped fuel and provide for album number two; 'It's Not Me, It's You'.
In many senses, Lily takes influences from all different directions in this album much like her debut, including electro-pop, ska, indie, etc. which makes for what could arguably be considered an exciting take on making elements of the mainstream music industry her own. Electro-pop seems to be a very prominent feature suspect on the album, primarily in the increasingly present everyday drug-use number 'Everyone's At It', and current chart-bothering hit 'The Fear'. As with usual procedure and expectations, it wouldn't be a Lily Allen record if there weren't songs slating ex-boyfriends, with 'Not Fair' carrying along witty lyrics about a poor sex life with an ex, with the lyrics "You're supposed to care that you never made me scream", and "I lie here in the wet patch, in the middle of the bed / I'm feeling pretty damn hard done by, I spent ages giving head" sealing it with the classic Lily Allen style.
'Back To The Start' brings along a nightclub vibe and potential with it. The electronic music and fast and quick lyrical deliverance together mean that this could very well be seen in clubs across the UK and other countries in a very short time. The track 'Never Gonna Happen' is a definite stand-out one, with a sound of something you wouldn't really find in the mainstream today, but yet is moulded and somehow transformed into what could only be quirky and catchy pop music.
'It's Not Me, It's You' may be mainly electro driven, but still holds lots of fresh and exciting songs and ideas that could very well invite many new fans to her catalogue. It's an evolvement from 'Alright, Still', and an album that keeps Lily in a league and classification of her own.
Written by Zach Redrup