June 9th, 2010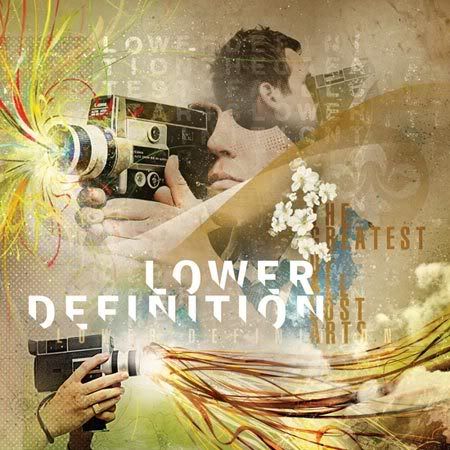 Release Date: July 8th, 2008
Label: Ferret Music
Website: None available
MySpace: www.myspace.com/lowerdefinition
Rating:


Providing an onslaught of musical creation that combines and weaves melodic and heavy vocal work with catchy and carefully constructed music that fuses into a sound similar to that of Finch in their prime – that would be one of the best ways to describe Lower Definition, and their release of 'The Greatest Of All Lost Arts'.
What comes to you somehow as a predictable yet impressive opener, 'To Satellite' pulls and draws in the listener in to the remaining 40 minutes or so left of the record. The introdution that blends the acoustic guitar into the furious yet controlled sound of the electric guitar is a sure sign that perhaps Eddy Marshburn is a legendary guitarist in the early stage of the making. With lyrics like "I never thought you were worth waiting for" gives off a bitter undertone to the beautiful stylings of Matt Geise's vocal work.
'Miami Nights' may be one to pull in those into the more radio-friendly offerings of such a band, showcasing their more mellow side to their music, and making sure the catchy factor to songwriting doesn't go amiss. Again, the work of guitarist Eddy Marshburn is rather impressive, and gives off complex yet endurable riffs like a pro. Where 'Miami Nights' was more of a mainstream effort, 'Versus Versace' brings down the crunch with belting screams and chugging riffs occupying the most part of the song in the verse sections, attracting more of a 'hardcore' crowd to the band. Though this heavier side is present in the song, they still stick to offering a more eardrum-safe musical experience.
One of the most impressive offerings on the album is that of 'The Weatherman', incorporating elements from the metal genre, aswell as that of post-hardcore, and pop-punk catchiness lacing and encasing the contents. Matt Geise has flawless vocal work, and belts out his screams and grunts like that of a mad man, with a potential of enraging anyone within ear distance, especially with the constant "Your flowers are fake!" being blasted through the speakers. When it reaches its heaviest moments it soon returns back to a calm, playing with the audience to its full capability.
There are moments where you may think "Is this song not the same one I heard 10 minutes ago?", but Lower Definition have created an album which brings beauty and hate together in an effective way. As first releases go it's not bad by any means, and is just the start of a band that have the potential to reach amazing heights.
Written by Zach Redrup