June 9th, 2010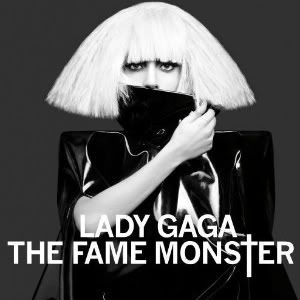 Release Date: November 18th, 2009
Label: Interscope
Website: www.ladygaga.com
MySpace: www.myspace.com/ladygaga
Rating:


Little over a year ago, the name Lady Gaga wouldn't have rung a bell with most. You'd most likely mention how it made you think of Queen's 'Radio Gaga' or that it sounded like the name of a drag queen. Isn't it amazing how things change? Nowadays the New York songstress, who's as infamous for her outrageous outfits as she is her songs, is a strong household name worldwide.
Her debut effort 'The Fame' has sold more than 10 million copies in the UK alone, and boasts hit singles such as 'Poker Face' and 'Just Dance'. So when it was announced that the Lady would re-release her album with a bonus disc featuring eight new tracks everybody went gaga, for lack of a better word. Aptly titled 'The Fame Monster', the record follows on from her debut and continues to tell the story about Gaga's growing obsession with fame and fortune.
Opening track and first single 'Bad Romance' is lyrically darker than previous material – a song about her relationship with the music industry whom she refers to as a lover, "I want your love, and I want your revenge / You and me could write a bad romance". But despite the ominous tone of the track, the music is incredibly catchy. The trademark dancey beats which have made Gaga popular are still present and are infectious as ever. Tracks 'Monster' and 'Dance In The Dark' also possess menacing lyrics, Gaga sings in the latter "Silicone, saline, poison, inject me, baby I'm a free bitch". But, once more the words are disguised behind cheery melodies – upbeat 90's synths to be exact. Eurovision anyone?
Perhaps even more significant than these Europop-approved songs is her duet with fellow superstar Beyoncé Knowles. Together the dream team create a masterpiece of a song, 'Telephone', which has hit written all over it. Again, the cheesy rave synths are there – think Britney prior shaven head, but undeniably it is one of those tracks that will never get boring, regardless of how many times you hear it.
'The Fame Monster' is literally bursting with contagious pop tunes, every track on this record could quite easily be released as a single and receive chart-topping success. Gaga's creativity reaches new extremes on this effort and quite frankly her desire to always be famous is likely to be fulfilled if she continues to produce hit after hit. Everything that was on her debut album is ultimately still present on this record – poppy beats, rave synths, lyrics divulging into the world of fame and fortune. But somehow Gaga manages to make everything sound fresh, new and original.
Gaga's got the goods that everybody wants and having just announced that she's already working on her next release, the hype around this fascinating lady isn't disappearing in the forseeable future. This chick is in it for the long haul. Madonna, I suggest you start panicking.
Written by Kate Rees