June 9th, 2010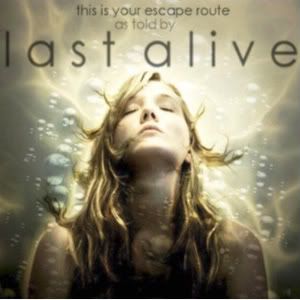 Release Date: June 30th, 2009
Label: Unsigned
Website: None available
MySpace: www.myspace.com/thelastaliveuk
Rating:

Rising like a phoenix from fallen ashes, Cheshire 5-piece The Last Alive's debut 'This Is Your Escape Route' may have a literal meaning behind the title name – escaping from past projects and chuggering onto new and better plains.
Opener 'Asymphony' brings you into their realm of indie/alt. rock like fusion, and though clearly doesn't on its own stand as a proper track, the lead onto following track 'Look Past The Bright Lights' makes it a fitting and natural transition into what's to follow. This is when their more ambient and post-hardcore inputs come into play; showcasing frontman Rob Scrannage's both melodic vocals alongside his more belted bittersweet screams and yells.
Arguably the best track on the release, the title-track, deals out everything this band has in their arsenal at great potential. Rob Scrannage's and back-up vocalist Stuart William's voices compliment one another like garlic butter and bread – except it doesn't leave any awful after-stench. The eerie piano intro slowly draws you into an ongoing barrage of drums from George Blything and walls of distorted guitar chords, galloping onto a fiddly guitar solo which soon drops you into the depths of the song's bridge. Rob's vocals change much like Dr. Jekyll and Mr. Hyde, swiftly switching from the soft "I still lie awake at night / We're not your saviours / Wearing the same suit and tie" before slamming a razor-sharp scream of "Something grabbed the air!" square in your face.
A breather is offered on a plate with 'Shallow Breathing', before throwing you in the shark tank one last time in closer 'Cocaine White'. The guitar work on this effort is more at the forefront than anything else, dual-axe team Stuart Williams and Stephen Roberts work together much like Tony Blair and George Bush once did. What's more, the repeated line "We've all been reduced to syringes" may make you cringe at the though of it's meaning, but it's more than guilty of getting stuck in your head.
The Last Alive may be known by very few across the world, heck even across the nation, but this 5-track debut most certainly shows an act planting seeds that could soon grow into something so much more. This is proof talent can be found in the most unlikely places.
Written by Zach Redrup