Building Blocks Compilation: Volume One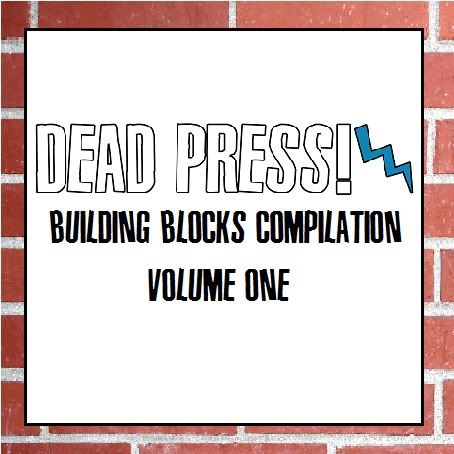 In celebration of being a website for a year (being more of a blog/portfolio May 2008-August 2010), we here at DEAD PRESS! have decided to release a compilation album for you readers to download absolutely free as a thank you for your ongoing support.
The album will feature over 40 tracks from a range of artists, from the underground talent to the more established signed acts making festival appearances and building a name for themselves. No band or song has made it on here unless we think they're worth the position. Whether you're into catchy pop-punk or like your music with a heavier bite, you're likely to find something you like here, and maybe even your new favourite band.
This is the tracklisting, and you'll find the download link for this release available below it from August 15th 2011 onwards:
DISC ONE:
01.) My Friend The Arsonist – Karma's A Bitch
02.) ACODA – I Creep
03.) Golden Tanks – Mace
04.) Thought Explode – Something Has Survived
05.) Curses – Remembrance
06.) Floods – You Convinced Me That I Needed It
07.) Fei Comodo – Break The Ice
08.) BatsAboutBats – Night & Fog
09.) Eleana – Dear Mother
10.) For Love And Hate – Shipwreck
11.) The Fall Of Giants – Pieces
12.) Paige – Young Summer
13.) Above The Underground – Evelyn
14.) The City Calls – Truth Or Dare
15.) With The Punches – No Blood No Foul
16.) Next Stop Atlanta – I'll Catch Fire (The Gift)
17.) Skinless Finger – Outta Here
18.) MakethisRelate – Watch Cars Crashing
19.) This Year's Winner Is… – When In Rome
20.) As We Climb – Get It Together
21.) Carridale – One Girl's Trash Is Another Girl's Trash
22.) Autumn In Disguise – Where The Hell
23.) This Is Turin – To Your Knees
24.) Release The Kraken – There's No Room For Emotions In The Pimp Game
DISC TWO:
01.) Shadows Chasing Ghosts – Searchlights
02.) Dreams & Empires – Halfway Home
03.) Talk Is Cheap – The Good Life
04.) The First – My Defence
05.) Who's Driving? Bear's Driving! – If You're Gonna Dance Like That Then We're Gonna Laugh At Ya
06.) I Divide – This Ship's Going Down
07.) Lost Boys – From Home Sweet Home
08.) Leopards – Lifeline
09.) Never Means Maybe – Ziva Killed Houdini
10.) Fall Against Fate – So Real
11.) Empires Fade – Virtue
12.) Betraeus – Towards The Sun
13.) Helter Skelter – Bulletproof
14.) The Hiding Place – Snaketown
15.) The Hype Theory – We Will Be Singing
16.) Paint The Sky – Broadcast For The Blind
17.) StoryBoard – High Horse
18.) Paper Tigers – Sparks
19.) Kill It With Fire! – AfterParty
20.) Death Of An Artist – Repulsa
21.) Page 44 – To Make You Proud
22.) On Call Heroes – That Guy
23.) Threads – Everything
Click on the links below to download this compilation for free:
DISC ONE – DOWNLOAD NOW!
DISC TWO – DOWNLOAD NOW!
The download comes with all 47 tracks of the compilation in .mp3 format, complete with the front cover artwork. The two discs of the album are each compressed in a .zip folder and hosted on MediaFire. To download, simply click on the links above, and if prompted to do so enter the four-digit captcha code. Once entered, wait for the 'Free download' button to appear. Once it has, click the button to begin your free download.
Please feel free to share this album around with your friends.
Enjoy!