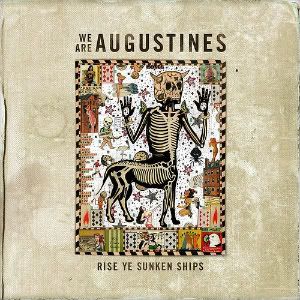 Release Date: March 5th, 2012
Label: EMI Records
Website: www.weareaugustines.com
Facebook: www.facebook.com/weareaugustines
Twitter: www.twitter.com/weareaugustines
Rating:

There are occasions when you can do nothing but sit back and enjoy and appreciate a particular piece of music. New York three-piece We Are Augustine's debut full-length album is one of those occasions. From start to finish, the emotion drips out of every down tempo riff or each heavily strung melody. Such emotion is understandable when it becomes apparent that the album is a musical descent into the relationship between frontman Billy McCarthy and his schizophrenic sibling and mother, both of whom tragically took their own lives.
It's a wonder that such events have not floored McCarthy, but this album is a credit to not only himself but also to his lost family. It tells a tale of sadness, despair but most of all, hope. It is nothing short of a musical catharsis, and the brilliant 'Augustine' is no better credit to this with the repetition of the harrowing "Keep your head up kid". At times, it sounds like he is trying to fight, but he's failing as his voice trembles through the delicate 'Juarez'. It sounds like his words are stuck in his throat and every line is a struggle.
Songs like the emotional opener 'Chapel Song' and the brilliantly subtle 'Book Of James' detail the aches of McCarthy's descent into depression, whilst the very tone of 'New Drink For The Old Drunk' is enough to suggest the solemn state of its writer. Whilst 'East Los Angeles' tackles the issue of his brother's death head on, in a tear jerking moment that displays the true ability of McCarthy.
Whilst this all may sound a bit too heavy for the average listener (I too at first was intimidated by the strength of the message presented), once you get that there are some brilliant, deep songs here; filled with beautiful instrumentation, they are fantastically layered. The mix of modern indie with solemn orchestral tones is simply something else and is really something to behold. A simply brilliant album, and it would be an injustice to the band and McCarthy if you didn't at least check it out.
Written by Oliver Thompson
Founder & Editor for DEAD PRESS! | Atheist and antitheist. | Judge of the quick & the dead since 1989.