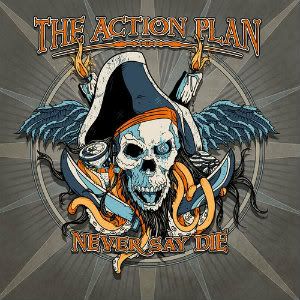 Release Date: December 10th, 2012
Label: Unsigned
Website: None available
Facebook: www.facebook.com/theactionplan
Twitter: www.twitter.com/theactionplanuk
Rating:

Heads up. We have yet another pop-punk band throwing their hat into the already overflowing ring that is the genre. Introducing The Action Plan!, a four piece UK act hailing from Bristol. Now, whilst the introduction of this review sounds harsh and exhausted, I have to point out that TAP! don't really do anything wrong across this record. They just don't do enough to stand out, which is pretty much a necessity if you want more than that handful die-hard teenage girls at the live show (you all know who I mean, you've seen them too).
'Hometown Hero' kicks off the record as you'd expect; a mix of power chords and a relatively catchy chorus to get people on their feet, but not much else to write home about. The exception being the lead guitar work which not only injects some life into the second verse of this track, but takes centre stage with an impressive solo during the otherwise unremarkable track, 'This One'.
Thankfully, the second half of 'Never Say Die' sees TAP! take a promising turn. They pick up the pace with the almost full-blown punk rock number, 'Live Fast', seeing frontman Danny push his vocals further and produce a great performance on the big hitting album title track, 'Never Say Die'. Finally, the band drop the search for a catchy hook and take a darker turn on 'So You Say' and album closer 'Suits And Ties', which both show real promise.
As I mentioned earlier, 'Never Say Die' is not a bad record, it's simply unfortunate that the listener has to wait for the tail end of the album for the band's real potential to surface. This band do have promise and hopefully, on future releases, TAP! will take charge from the get go and make a name for themselves. As it stands though, this album sadly won't be enough.
Written by Jonathon Barlow
Founder & Editor for DEAD PRESS! | Atheist and antitheist. | Judge of the quick & the dead since 1989.