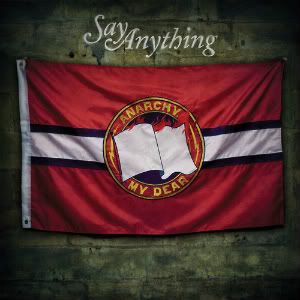 Release Date: March 13th, 2012
Label: Equal Vision
Website: www.sayanythingmusic.com
Facebook: www.facebook.com/sayanything
Twitter: www.twitter.com/sayanything
Rating:

It goes without saying, Say Anything haven't been lucky enough to share some of the fame and good fortune that a lot of their contemporaries have managed to reel in. In the pop-punk scene, Say Anything don't really seem to be climbing ladders at a very fast pace, and from the offerings brought to us with new full-length 'Anarchy, My Dear', that won't be changing very soon.
One of the key factors of Say Anything's current success undoubtedly lies within frontman Max Bemis and many of his personality traits he brings across within the band's music and its lyrics. His compelling nature, sharp and quick witted lyrics that bare his compelling self-portraiture are as strong as ever throughout this record, one notable moment being within 'Admit It Again', a somewhat sequel to 'Admit It' taken from the band's 2004 outing, '…Is A Real Boy'. It's tracks like these that bring forward to us what potential the band showcased in their earlier days, but as a double-edged sword, this also prominently highlights their lack to progress and evolve.
In the pop-punk world, Say Anything will still remain to be a band who can't seem to break through the mould. It's great that they certainly stick out within the flood of many of the scene's carbon copies that come to us day in and day out, but this attribute is all to no avail if they cannot execute it properly.
Written by Zach Redrup
Founder & Editor for DEAD PRESS! | Atheist and antitheist. | Judge of the quick & the dead since 1989. | Aspiring freelance pizza eater.