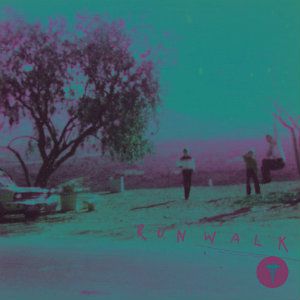 Release Date: July 16th, 2012
Label: Holy Roar Records / Topshelf Records
Website: None available
Facebook: www.facebook.com/runwalk
Twitter: www.twitter.com/runwalk
Rating:

As Camden-dwelling, Ray Ban-donning, roll up-smoking hipsters parade around in vintage American sports team shirts and unbearably tight jeans listening to noise-pop, it would seem the genre and therefore all those contributing to it may have somewhat of a stigma attached to them. With acts such as Sleigh Bells (whom I happen to adore) becoming chronically "cool", it would perhaps seem hard to take other artists such as run, WALK! seriously. However, I beg of you to ignore the so-called "scene" and take them for what they are. Which is truly incredible, I might add.
Simplistic, singular notes ringing from a solitary guitar in a pattern reminiscent of a doorbell chime introduces the record. A slow progression of adding layers of more bass guitars, harmonising the initial melody in an almost dualistic, binate fashion hints towards the 'noise' element to run, WALK!'s unique sound. You are then greeted with a glimpse as to the vocal style of Matt P-Copley; the link into the hardcore genre.
Calculated bass licks that sound as though they've been more programmed than written constantly run underneath the harsh, screaming vocals, which then shine out, giving the record a more pop, disco feel when the vocals cease. It's Matt's counterpart, Tom Clements, who provides a more natural tone with the use of acoustic drums. The combination of the techy samples carrying the electronic feel, with the real drums and screeching over the top really defines their sound whilst covering several genres of music. Some would argue that run, WALK! are more of a mathcore band however, when the vocals dip and the music is left to dominate, you really get the feel of the noise pop coming through; a rare occasion where both areas of music cross over (but who cares about genre?).
'☤' (or 'Health') is a 26-minute intense blast of robotic riffs and violent screams. The use of repetition and choppy, pixelated melodies will have you zoning out before being drawn back in, transfixed on the aggressive vocals; a notable track which uses this technique incredibly is the last song, 'Under A Rock'.
The record is cold and crisp at times, however, there's an animalistic element which is brought in and completes the sound. Masterfully combining contrasting components makes this an essential listen (even if you don't consider yourself chronically cool).
Written by Jack Bastard
Founder & Editor for DEAD PRESS! | Atheist and antitheist. | Judge of the quick & the dead since 1989.