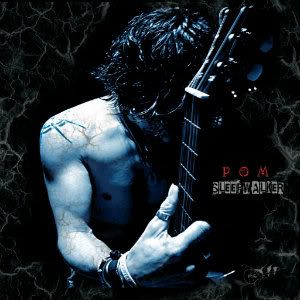 Release Date: March 26th, 2012
Label: Copro Records
Website: www.pom-guitarist.com
Facebook: www.facebook.com/pom
Twitter: None available
Rating:

Are you a massive fan of serious guitar playing? And by serious guitar playing I mean riffs that make you ask yourself "Is this real? The person responsible for these tracks must have hands made of pure lightning to play these riffs!" By now, you may be thinking this must be another Dragonforce rip-off. However, the difference between them and POM is that he is a one man battalion of face melting fingers and plays his entire album 'Sleepwalker' on an acoustic guitar.
Now, I hope the last sentence hasn't made you turn your nose up in disgust as you have visions of another Jose Gonzales wannabe invading your ears with tracks so upsetting it takes three days to recover from listening to them. There are certainly similarities between POM and Jose, but the main difference is that POM's 'Sleepwalker' is a mostly instrumental album throughout, as it takes four tracks before 'Cowboy Junkie' slips in some quiet wailing to accompany the music. This gives you, as a listener, time to sit back and immerse yourself in his obvious and sometimes ridiculous talent.
The only problem with a largely acoustic album is that many may find it incredibly self-indulgent, especially if you're not used to this genre of music. Many new listeners may be waiting for something else to happen and unfortunately they're going to be disappointed. Also, if you see yourself or you actually are a very good guitar player, you might want to swerve this album as it will be probably provoke two reactions out of you. Firstly, you might meticulously listen to every song too closely picking out any lapse in timing or tone just to further your own self-worth, or it will make you feel like a terrible musician who knows they would never be able to produce work like this.
Throughout the album, POM drifts between highly experimental and wild songs like 'Deep Shift', 'Blind Man' and 'Purple Room' to some more laid back and less finger blisteringly aggressive songs, such as 'Propeller' and 'Rodeo'. With the more straight forward tracks, they almost sound like they could be used in films, which makes sense as POM has also written five feature length screenplays, one of which is also titled 'Sleepwalker'.
Herein lies the problem, because at times 'Sleepwalker' does sound too much like a soundtrack and not enough like a record. However, there's no denying that POM has created a truly remarkable piece of work and it really needs to be heard to be fully appreciated. There's nothing quite like having your face melted by a maelstrom of sophisticated and twinkling acoustic riffs.
Written by Steven Potter
Founder & Editor for DEAD PRESS! | Atheist and antitheist. | Judge of the quick & the dead since 1989.