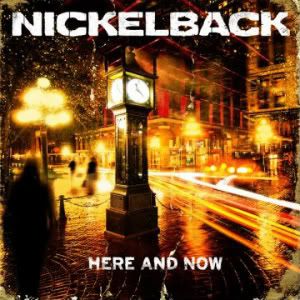 Release Date: November 21st, 2011
Label: Roadrunner Records
Website: www.nickelback.com
Facebook: www.facebook.com/nickelback
Twitter: www.twitter.com/nickelback
Rating:

Whether you love them or hate them, Nickelback are undoubtedly one of the most consistent bands on the planet right now, churning out an album almost every two years like clockwork, and usually making waves worldwide with each. 'Here And Now' doesn't look like it's going to be much different either, and going back to what Nickelback do best: guitar albums.
'Here And Now' starts off very much along the same lines of the band's last outing, 'Dark Horse'. Opener 'This Means War' smashes in with a very intricate riff sounding very similar to that of 'Something In Your Mouth', but with slightly less energy and Chad Kroeger's vocals and lyrics falling into the path of the less provocative 'All The Right Reasons' album. As the album progresses, we can see that the band have went back to their 2005 hit album for a much more mellow release, with songs like 'Bottoms Up', 'Get Me Some' and 'Holding On To Heaven' are others which fall firmly into Nickelback territory; emotional, easy listening rock at its finest.
One song which definitely stands out on this album is 'When We Stand Together' – a very organic, much lighter side to Nickelback. This sounds like nothing you've ever heard before. The backing vocals sound almost like an 80s pop song, and there's an almost reggae feel to the drumbeat. This is the most controversial song on the album, but, yet again, in typical Nickelback style, it bursts into a very energetic guitar track immediately after with Midnight Queen, which like most tracks on this album, seems to be a fusion of the ability we seen dislayed in 'Dark Horse' combined with the more natural attitude of 'All The Right Reasons'.
Overall, this is definitely a "if it isn't broke, don't fix it" type album. Consistent, but typically Nickelback; heavy guitar riffs and vocals, which sometimes verge on rock ballad. If you're a fan of Nickelback then you'll love this, but if not then chances are it won't be likely to change your opinion on the Canadian quartet. However, there is a good chance this will keep Nickelback firmly in the 'guilty pleasures' category of your music taste, as this is another consistently catchy eleven-track from a band who look to retain their spot as one of the most successful rock bands in the world right now.
Written by Gary Cassidy
Founder & Editor for DEAD PRESS! | Atheist and antitheist. | Judge of the quick & the dead since 1989.