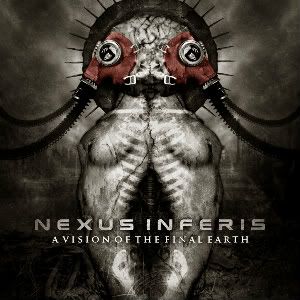 Release Date: January 27th, 2012
Label: Noise Art Records
Website: None available
Facebook: www.facebook.com/nexusinferis
Twitter: None available
Rating:

With the unpresidented bile which greeted the release of Morbid Angels' 'Ilud Divinum Insanus' last year, it's clear that even today with death metal in such a vigorous and innovative standing, there remains a dissapointingly large fragment of hard headed purists that scoff at any creativity or progression in a genre they would seemingly rather see stagnate. So thank god for bands such as Nexus Inferis, who refuse to languish in a stifling formula and continue to evolve death metal's sonic violence.
Although with a sound rooted in Origin-esque techincal battery, it is the electronic florishes here, such as in the furious 'The New Strain', which compliment with a somewhat overworldly ambience, and it is this seemless blend of ideas which makes the extremes here all the more stirring. Taking nothing away from the savage volley of musicianship which the band clearly specialise in, these textures are a welcome addition, generating an intriging spice to tracks which are already stimulating enough in their blitzkrieg assault.
As we would expect, the instrumentation here is consistently stellar. The sheer pace with which album highlight 'Tremors' is executed is as impressive as it is energizing, with some skin flaying tremelo picking rattling along over a foundation of utterly devastating blast beats. Speed is a monstrous weapon in the Nexus Inferis arsenal, yet not to the detraction of their use of dynamics. 'Beyond Evolution Rubicon' employs some grooving stop/start riffing which decelerates considerably, and the light and shade of the lengthy title-track shows just how much the band is willing to spread it wings.
'A Vision Of The Final Earth' is remarkably accomplished for a debut release. More than relentless enough to please extreme metal devotees, yet with a subtle futuristic flavour inciting some interesting electronic landscapes. On this evidence, Nexus Inferis slot nicely onto the every growing roster of exciting UK metal acts.
Written by Tony Bliss
Founder & Editor for DEAD PRESS! | Atheist and antitheist. | Judge of the quick & the dead since 1989. |