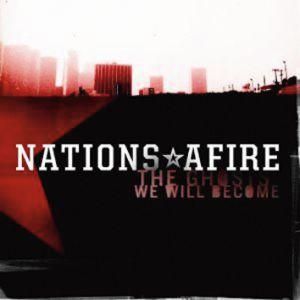 Release Date: September 10th, 2012
Label: Unsigned
Website: None available
Facebook: www.facebook.com/nationsafireofficial
Twitter: www.twitter.com/nationsafire
Rating:

Fans of punk and hardcore should know who Nations Afire are, due to the band's all-star line-up. Think of them as a super band, if you will, drawing members from many different bands, such as guitarist Chris Chasse of Rise Against and also bassist Brett Rassmusen and vocalist Nik Hill, who are both veterans of the Orange County hardcore mob, Ignite. Throw drummer Todd Hennig of ex-Death By Stereo into the mix and you certainly have a band to be excited about.
Starting out as a side-project and quickly growing into much more, Nations Afire care little for being stereotyped into a genre and draw upon each other's extensive musical backgrounds to create their sound. If anything, the band have been greedy with their influences and have created a solid hardcore/punk/rock sound.
Album opener 'I Am An Army' opens the record up nicely with its chunky riff work and anthemic rock vocals courtesy of Nik Hill, although there is a twinge of Dave Grohl to his voice that adds that rock and roll edge. Title track 'The Ghosts We Will Become' has a much more energetic pop-punk sound with an infectious, if not a tad stereotypical, "whoa whoa" for any fans of gang chants out there. The scything guitar work from Chasse cuts its way through the record, adding a much faster pace to the track.
'In Absentia' has an air of hardcore to its sound, with its rumbling bass intro to its power chord choruses, but it quickly morphs into another stomping rock track. 'Occams Razor' is a spiky and joyous punk rock tune with great energy and pulsing drum work. 'Even The Blackest Heart Still Beats' mixes the whole album up with a tranquil acoustic rhythm that sees Hill's raw voice raging over the otherwise delicate song. It's almost a punk love song. 'Concussionist' has a great track name, but unfortunately the track just doesn't live up to the power that one might expect from it. The album ends of a good power chord note with 'Wolves', but as a package there are too many songs that pass by unnoticed for it to be entirely satisfying.
Despite having a promising line-up, there's something about 'The Ghosts We Will Become' that isn't quite right. It's easy to distinguish the different influences each band member has introduced, but they're all so diluted that the end product is unfortunately quite forgettable. If you like a good sing along and powerful heart felt rock you could do worse than pick up the album, but it certainly won't be changing any lives anytime soon.
Written by Steven Potter
Founder & Editor for DEAD PRESS! | Atheist and antitheist. | Judge of the quick & the dead since 1989.