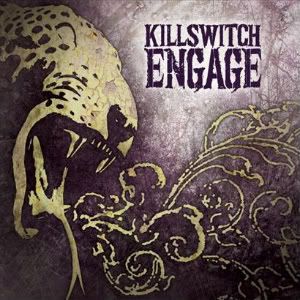 Release Date: June 30th, 2009
Label: Interscope
Website: www.killswitchengage.com
MySpace: www.myspace.com/killswitchengage
Rating:


Following on from the success of previous release 'As Daylight Dies', American metalcore gods Killswitch Engage return with their second self titled album, and what a return it is. Christened 'How to shit on your competition from a great height' by one music magazine, Killswitch would have a tough job of bettering 'As Daylight Dies', but they manage to surpass it in many senses.
From the off you can tell this is going to be another cracking set of songs, the opening duo of 'Never Again and first single 'Starting Over' are typical Killswitch all over. Not that this is a bad thing, the switching by Howard Jones from his deep growling to melodic harmonies are what set this band apart from others. They can try, but no one does it like Killswitch. 'Reckoning' is a stand-out track on the album; players of Madden '10 will have heard it on the game soundtrack, although it does suffer from being heavily edited in the game due to the references to 'God' and so on. The album version is how it should be, nothing cut out and nothing edited, and resulting in arguably the best song on the album.
We then have the weakest offering on the album, 'The Return'. It just sounds odd as it is the polar opposite to pretty much the entirety of the album. We know they can do the ballad-like songs, but this one just doesn't cut it like 'End Of Heartache' and 'Arms Of Sorrow' on previous offerings. Thankfully they return to the tried-and-tested formula with 'A Light In A Darkened World'; featuring some of the best guitar on the album and back-up vocals from Adam Dutkiewicz, it is a superb song and a definite high-point of the album.
'I Would Do Anything' builds up some smacks of old-school KSE; as in the times before current vocalist Howard came on the scene. 'Save Me', 'Lost' and 'This Is Goodbye' sound from their names that they could be yet more ballad driven songs, but thankfully they are nothing like that. Infact this very trio of songs close out what will be one of the best albums of the year in a great way.
It may not divert from the tried-and-tested KSE formula too much – granted, it has a much heavier sound to their previous offerings – but when you are a band like Killswitch Engage, there is no need for them to divert much from that. What they do is superb and no other band comes close. A fine album, despite the one weak song.
Written by Tom Donlan
Founder & Editor for DEAD PRESS! | Atheist and antitheist. | Judge of the quick & the dead since 1989. |