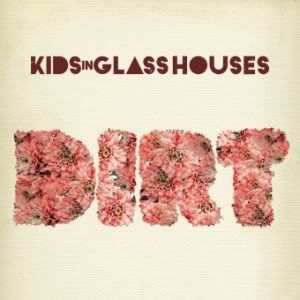 Release Date: March 29th, 2010
Label: Roadrunner Records
Website: www.kidsinglasshouses.com
MySpace: www.myspace.com/kidsinglasshouses
Rating:

Forget male vocal choirs, the dominant sound emanating from the welsh valleys in recent years has been post-hardcore pop acts hoping to emulate the mainstream success achieved by Lostprophets and Funeral For A Friend. Kids In Glass Houses are no different. 'Dirt' is an album that seeks to continue this burgeoning tradition by following in their countrymen's footsteps step by step.
Following on from 2008's well-received debut 'Smart Casual', the band have toned down the harder, riffed up moments of their first release in favour of a more inflated take on their tamer, commercial pop-rock side. 'Dirt' is built around the vocal talents and lyrical hooks of Aled Phillips, who plays the role of the rasping and wailing, girl friendly focal point as needed. Behind the front man is a band that's shed whatever bite and venom they may have had in exchange for a far more rounded and generic sound. The results are effective if unspectacular. This is Kids In Glass Houses consolidating their position and playing it safe with a batch of songs ready for the radio and tweenager bedroom walls across the land.
Opener 'Artbreaker I' is a false dawn; the battering ram track sent crashing in first to give the softer, fluffier songs that follow a chance to dive in through the breach. It's two and a half minutes of lip service to the band's earlier origins that kicks of their new era with a bang. 'The Best Is Yet To Come' sets the tone for the rest of the album, with its shiny, pop-rock veneer that packs a killer verse/chorus combo, ample sing-a-long possibilities and the first of many key changes to make you cringe. The band's obvious Stereophonics inspirations come to the fore in 'Youngblood (Let It Out)' with it's main riff, vocal work and overall structure sounding ever so close to Kelly Jones and co's 'Dakota'. Of the remaining track listing, 'Matters At All', 'Lilli Rose', 'For Better Or Hearse' and 'Undercover Lover' could all be single material and make for easy listening highlights of what's left thanks to their very obvious popped-up charms.
The album rounds out with its second-to-last and strongest track 'Hunt The Haunted', that delivers a dose of head nodding pop-rock with a straight face; a rare sign of growth for the band on an album packed to the rafters with predicable, sugar coated chart contenders. 'Dirt' ends as it began with 'Artbreaker II'. After the album that's gone before it, it feels like an unnecessary, tagged on after thought rather than the finale it should be. Perhaps it's more direct, pumped up approach would have been served earlier instead of showing itself up against the far more appropriate track just place above it.
'Dirt' is a good collection of pop songs hampered by some poor pacing and a sense of differing agendas within Kids In Glass Houses. With their first release they proved their ability to fuse pristine pop sensibilities, an instinct even more evident on many of the tracks on offer here, with their post-hardcore influences and backgrounds. Instead of playing to their strengths Kids In Glass Houses have tried to dissect them and fallen short because of it.
Written by Greg Johnson
Founder & Editor for DEAD PRESS! | Atheist and antitheist. | Judge of the quick & the dead since 1989.