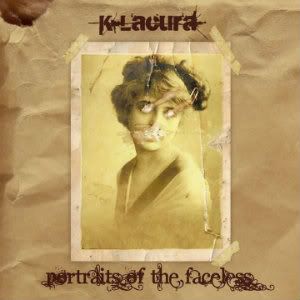 Release Date: April 16th, 2012
Label: Unsigned
Website: www.k-lacura.co.uk
Facebook: www.facebook.com/klacura
Twitter: www.twitter.com/klacura
Rating:


Hailing from Oxfordshire, metal quintet K-Lacura are a relatively unknown band, but I have a feeling that this won't be for very long. Having played alongside bands such as The Ghost Of A Thousand and Glamour Of The Kill, they've also created their first full-length album, 'Portraits Of The Faceless'. It's an album that grabs you by the throat and doesn't let go until you've heard everything this band has to offer, which thankfully is a lot of talent compacted into 10 tracks.
Opener 'Beneath The Buried' immediately explodes into an amalgamation of furious drumming, blistering guitar work and aggressive roaring vocals. This is sure to be a fan favourite at live shows, with the crowd screaming "Just watch the pendulum swinging". The band also make the most of their clean vocals providing some diversity on tracks such as 'Drop Down' and the heavy yet melodic 'Carouse', which sounds similar to the early work of Welsh favourites Funeral For A Friend.
This diversity really works in their favour, as the slightly mellower 'Fold' breaks up the album and shows that the band have the ability to vary their sound. They also manage to do this without having a token ballad. The introduction to 'Severed And Silenced' leads you to believe it might be that ballad, but the vocals kick in and blow you far away from that false sense of security. The vocals however are not the focus of this record; the drumbeat is relentless throughout and the guitar solos the album's title-track show the instrumental prowess of this group.
K-Lacura are a band with a lot of talent and hopefully with that they have a bright future ahead of them. Taking a break for a while due to the arrival of the guitarist's son will give them a break before returning to the music scene. Hopefully they'll return with plenty of live performances to showcase what they can do and live up to the expectations this album creates.
Written by Jonathon Barlow
Founder & Editor for DEAD PRESS! | Atheist and antitheist. | Judge of the quick & the dead since 1989. | Aspiring freelance pizza eater.