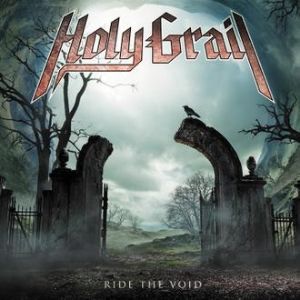 Release Date: January 21st, 2013
Label: Nuclear Blast Records
Website: www.holygrailofficial.com
Facebook: www.facebook.com/holygrailofficial
Twitter: www.twitter.com/holygrailband
Rating:


Holy Grail are a band that play flat out heavy metal. They don't fuck around with gimmicks, they don't do weighty concept albums, they just play music to bang your head to. You're not gonna become enlightened about the world by listening to 'Ride The Void', but you should have a damn good time.
Formed when most of White Wizzard cropped off, Holy Grail are on their second album now. 2010's 'Crisis In Utopia' was greeted with moderate response, and it appears that 'Ride The Void' has gone down pretty well amongst fans as well.
There's a lot of different songs here, from the Slayer influenced 'Bleeding Stone', past the Trivium like 'The Great Artifice', to the classical instrumental 'Wake Me When It's Over'. The pick of the bunch is probably the Carcass clone, 'Too Decayed To Wait', with its groovy guitar riffs and catchy cries of you're every sniper's dream.
All members of the band have input in their own way, but it's Eli Santana on vocals/guitar that appears to be pulling the strings for the most part. He trades licks throughout with new guitarist Alex Lee (ex-Bonded By Blood), whilst Tyler Meahl on drums and Blake Mount on bass chop away. You'll be surprised if you look at a picture of vocalist James-Paul Luna; for someone who sounds like the brother of Thor, he's quite a scrawny chappy.
Heavy metal fans are amongst the most accepting if you want to be welcomed to their clan (provided you don't have a fringe, of course), so Holy Grail should slot in nicely amongst bands like Arch Enemy and Dragonforce on the headbanger's wallchart. With support from Nuclear Blast, they will be sure to be around for a while. It will be easy to glaze over their tours in coming months and years, but maybe you should just give them a chance and head along. Just don't expect to be moving your neck the day after.
Written by MG Savage
Founder & Editor for DEAD PRESS! | Atheist and antitheist. | Judge of the quick & the dead since 1989.