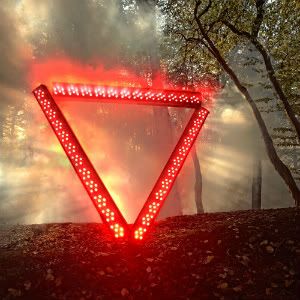 Release Date: January 16th, 2012
Label: Ambush Reality
Website: www.entershikari.com
Facebook: www.facebook.com/entershikari
Twitter: www.twitter.com/entershikari
Rating:


Unless you're a stranger to Enter Shikari and what they're all about, you'll be well aware of the band's political stance on the world as it is today; politics, the economy, enviromentalism – the St. Albans quartet have got all their bases covered. Though it wasn't all that apparent with debut 'Take To The Skies', their 2009 follow-up 'Common Dreads' really make it clear and declared it out to anyone and everyone who had any interest in listening.
Now, come 2012, 'A Flash Flood Of Colour' undeniably is still carrying on the band's views of the world strong on its shoulders, but make no mistake, this is far from a slightly more modernised and rehashed working of 'Common Dreads'. The boys are still all about their unity and standing up against the wrong doers, and they've not really changed their musical stylings, they're just keeping it all fresh and exhilirating as ever before.
Following opener 'System…', which trails you in with frontman Rou Reynolds' spoken word rantings about being "such an exciting time to be alive", '…Meltdown' drops you into the warfield like a bomb, almost deploying you immediately into a machine firing of perhaps some of the heaviest synth inserts thus far in the band's career. As with all of their opening tracks, this track is equipped with a soaring chorus and most importantly an affirmity that these guys have set the scene for the 9 tracks which are to follow.
The intensity remains with following track and the record's first single, 'Sssnakepit', following the tried and tested formula seen before in the likes of 'Juggernauts' and 'Mothership'; fast, busy and shoving in a bit of everything they're best at. 'Hello Tyrannosaurus, Meet Tyrannicide' follows suit in a similar fashion, stomping into play with Rou's venom and hate fuelled verses and collosal chorus line which is as affirmative as it is catchy, and 'Pack Of Thieves' packs a chorus that sounds surprisingly pop-y yet also anthemic.
It's not all rage and shouting though, as seen with 'Stalemate'. Of course, Rou and co. are still making sure their views on the world today has a very dominant presence, but in comparison to a lot of the album's other rather anger driven work it's a nice break from the pace. Closer 'Constellations' holds a similar facade, and is arguably the band's strongest closing track on all of their albums (yes, I am including 'Ok, Time For Plan B' from 'Take To The Skies' in that list too).
There's no doubt that many will still say 'Take To The Skies' is still the band's best album. But, the fact of the matter is in retrospect, that album in comparison to 'AFFOC' was kind of amateur. When paired against 'Common Dreads', it just sounds stronger and more confident, with smoothed edges and corners the band perhaps didn't catch onto with that effort. 'A Flash Flood Of Colour' already stands as a strong entry of the music to come in 2012, and will no doubt set up the band for a busy and successful year to follow.
Written by Zach Redrup
Founder & Editor for DEAD PRESS! | Atheist and antitheist. | Judge of the quick & the dead since 1989.