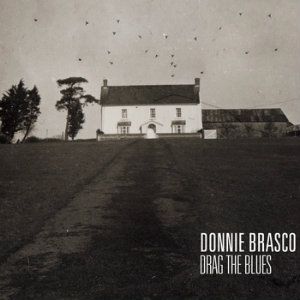 Release Date: April 27th, 2012
Label: Lockjaw Records
Website: None available
Facebook: www.facebook.com/godonniebrasco
Twitter: www.twitter.com/godonniebrasco
Rating:


With the scene literally full of personalities trying to step up to the plate, post-hardcore is beginning to look like it's suffering from a mild case of bloating. Yet, when the music being produced stands up as well as 'Drag The Blues' by Donnie Brasco, what's wrong with just that extra bite more? Hailing from the Southwest, the six-piece have worked tooth and nail to reach the milestone of releasing this mini-album, and if there's any justice they'll be rewarded with admiration for the pieces of music they have written and recorded on this release.
When something's not broke then why fix it? The emotionally tendered melodic hardcore that the band create isn't anything diverse, yet the coalition and tightness that can be heard between them make each track a flowing and encompassing listen.
'Loose Ends' is a rolling thunder of emotion and jagged, throat cutting riffs. The quiet/loud dynamics hold back for the grasping growl of to take you by the scruff of the neck and make you pay attention. Polarising light melody within the coursing rhythm is a perfect answer for why this sort of music has always been taken to heart by its fans, it leaves you on edge and doesn't let off.
When everything seems quite dark and full of melancholy, Donnie Brasco pull out the grandest of bridges you've ever heard. A ball of energy and uplifting melodies come unexpected and make for a refreshing listen. 'Drag The Blues (Closing Archways)'; a mix of this with a damning breakdown of down-tuned riffs that drag you straight back down with them. The EP continues in that vein, taking a light refrain with the Defeater likening 'The Great Depression', opening up a chest of darkness over western-guitars.
It's when you've reached the end of the line and 'Send Me Back To Sleep' rears its beautiful and angelic head. The signature track of the album, a real passionate and heart-wrenching 3 minutes that states its cause and leaves. Tinkerings of melody form the verse, before all is let loose and Donnie Brasco cement their place as the band to watch in this genre.
I've never given a 10/10 out before and I may not again this year, but this 17 minutes of music deserves it. A truly surprising and enjoyable piece of emotive music, if you like your heavy music to play with your heartstrings just a little, put some headphones on and let this album just sink in.
Written by Ross Jones
Founder & Editor for DEAD PRESS! | Atheist and antitheist. | Judge of the quick & the dead since 1989.