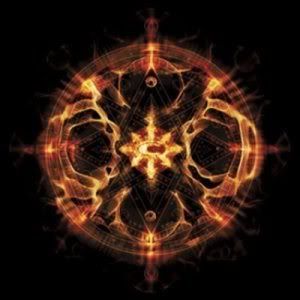 Release Date: August 16th, 2011
Label: Nuclear Blast Records
Website: www.chimaira.com
MySpace: www.myspace.com/chimaira
Rating:

Chimaira have been top of the heavy metal scene for some time now with their instantly recognisable and suitably epic sound. They are one of the hardest working bands around as 'The Age Of Hell' is their tenth record. For someone who hasn't listened to them before, this isn't your generic metalcore, there is something almost operatic about their sound with soaring guitar riffs and solos, heavy blast beat drumming and vocals that are both throat-shredding and harmonious making for a truly interesting listen.
"Prepare for the end / Blood will be shed / Final farewell, this is the end / The age of hell" is how the record starts, so you know you're going to be in for a pretty dark ride through the next 49 minutes. 'The Age Of Hell' opens the album and kicks the record into life almost immediately. After some all to familiar white noise, the record kicks you in the face with a thrash metal vibe with finger splintering guitar work courtesy of Rob Arnold on lead guitar and crushing drumming from Austin D'Amond.
'Clockwork' is the first time you get to sample what Chimaira are so damn good at: mixing heavy metal with huge anthem choruses. Vocalist Mark Hunter's savage barks work in unison with layers of clean vocals adding a sense of emotion and depth to the track. Knob-twiddling electronic work are as frequent in Chimaira's work as the blood stains on the floor of their live venues. If you listen hard enough, you can always pick out the eerie synths covering the otherwise bone shattering work of the band that adds to the awesome power of the record. It adds much more atmosphere to the tracks, letting listeners know this band are ready for the big time stage shows.
Guitar solos are some of Chimaira's specialities and this record is no different. 'Time Is Running Out', as well as being a disgustingly groovy track, has some real face-melters chucked in breathing life into what would be a distinctly dull metal sound without them. 'Beyond The Grave' slows the tempo of the album down, with a filthy and chugging riff accompanied with more of the same clean vocal work seen on previous tracks. For the majority of the song the harsh vocals have been used sparingly, perhaps giving the listener a brief respite from the savage brutality of the previous tracks. However, when they do make a re-appearance, all the viciousness and power of Mark Hunter's vocals have an even bigger impact.
As for you beatdown fans they aren't as prominent as you might think, but when they do drop you better be fucking ready because they are merciless and bloodthirsty, exactly like the one featured in 'Born In Blood'. During the track you get a good minute or so of pit destroying breaks accompanied by a solo so encapsulating, it's hard to say whether the crowd would be tearing each other to pieces or admiring Rob Arnold's finger work at a live gig.
As a record, 'The Age Of Hell' is a breath of fresh air to a genre that can at times be lacking originality. It's clear the band have worked hard to produce an album that's different, but not lacking in its ferocity. 'The Age Of Hell' is here, and it sounds pretty good.
Written by Steven Potter
Founder & Editor for DEAD PRESS! | Atheist and antitheist. | Judge of the quick & the dead since 1989. | Aspiring freelance pizza eater.