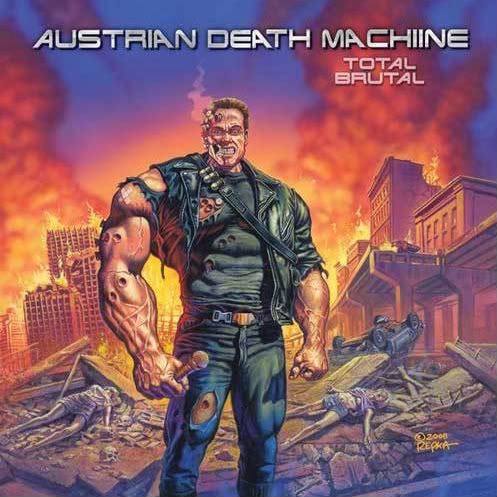 Release Date: July 28th, 2008
Label: Metal Blade
Website: None available
MySpace: www.myspace.com/austriandeathmachine
Rating:

Have you ever wondered what a thrash metal band would sound like if their frontman was none other than Arnold Schwarzenegger? Well, Austrian Death Machine is exactly what it would sound like, and 'Total Brutal' is a collection of 17 different tracks, most with titles referring to one of the actor's films in some way or another, creating a musical experience that doesn't come by every day.
'Hello California' brings to the table the comedic side this album offers straight away, with the short audio introduction of the nicely named fictional character Ahhhnold (who is in actuality the vocalist for the band As I Lay Dying, Tim Lambesis), and the formation of the band (who are all also actually performed and recorded by Tim Lambesis), before belting into the first proper song, 'Get To The Choppa'. Chugging thrash riffs, and lyrics such as "I'm gonna get back-up, then come shoot you in the face!" yelled in an accent just like Arnold Schwarzenegger is just something that's bound to get a few giggles here and there. The same can be said for 'I Am A Cybernetic Organism, Living Tissue Over (Metal) Endoskeleton', with the harmonized singing styles of the chorus, and the closing growls from Ahhhnold, stating "I am a war machine!" is amusing to say the least.
Aswell as the album being comedic, there's also a lot of talent on display throughout the songs, with every song excluding the audio interludes featuring a guitar solo from a guest musician, making each song their own. However, despite this fact, the comedy side of this record can grow old fairly quickly after a few listens, and can even actually be quite annoying after a short while.
In small doses, Tim Lambesis has created a solo side-project from his main band a funny effort using a different and original idea. Thrash metal at its wackiest, 'Total Brutal' is one that Arnold Schwarzenegger himself may be proud of inspiring completely.
Written by Zach Redrup
Founder & Editor for DEAD PRESS! | Atheist and antitheist. | Judge of the quick & the dead since 1989.