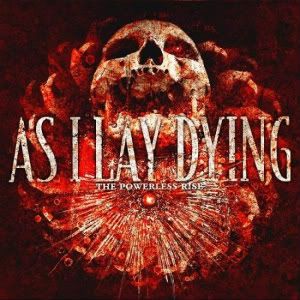 Release Date: May 11th, 2010
Label: Metal Blade Records
Website: www.asilaydying.com
MySpace: www.myspace.com/asilaydying
Rating:


With an impressive back catalogue it would be hard not to expect the best from As I Lay Dying, but from the opening second it would appear that all the usual traits of their records are still in tact and have not passed away with time. Their last album 'An Ocean Between Us' was released three years ago, and it would seem that the side-project of vocalist Tim Lambesis (Austrian Death Machine) has done very little to distract him.
Sticking to the melodic yet hard hitting Californian metalcore they have become renowned for they pull no punches on this album and it hits all the quintessential areas of your ear drums in just the right places. Pulsating drums, CHECK. Deep, gravelly growling, CHECK. Crunching rhythms and guitar grooves, CHECK. Melody that could charm any woman into bed, CHECK.
'Without Conclusion' has the opening staves that would grate your cheese for you in your sleep, it grinds at your face with venom and melts you into a sticky mess. The highlight of this album would definitely be 'The Plague', making you feel that this album is quite a lot heavier than its predecessors, not a bad thing at all.
While it would seem that this record has it all, the only qualm would be that it is all a tad formulaic. Sure, what metal fan doesn't enjoy meaty and ballsy metalcore? But nowadays with such an overpowered genre you have to set yourself aside from all the other competitors, so to speak. It's only their name and their legacy which lets them do this in terms of this record, while it is not actually that bad as a whole, it's not as brilliant as it could be and it would appear they are lacking behind other bands such as August Burns Red and Misery Signals. It's almost as if they are the band that time forgot, shame for such a talented band.
Written by Dom Wyatt
Founder & Editor for DEAD PRESS! | Atheist and antitheist. | Judge of the quick & the dead since 1989.