ALBUM: Does It Offend You, Yeah? – Don't Say We Didn't Warn You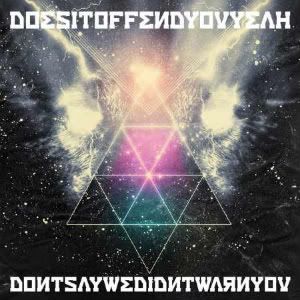 Release Date: March 14th, 2011
Label: Cooking Vinyl
Website: www.doesitoffendyou.com
MySpace: www.myspace.com/doesitoffendyou
Rating:


'Don't Say We Didn't Warn You' is mental. It's electronic rock riding a massive sugar-high, often teetering on the edge of self-imploding. It's exciting, but also a little unoriginal and at times grating to listen too.
'We Are The Dead' explodes in a shower of tribal beats and screeching noise. It sets the tone for the rest of the album and ramps the energy levels right up. 'John Hurt' has to be mentioned mainly for its straight lift of the synth line from 'Omen' by The Prodigy. This is partly excusable as front man James Rushent co-produced the song for the legendary dance band, but it's jarring and way too obvious in the mix.
'Yeah!' starts off deceptively restrained, with an almost relaxing, steady build to the first verse. It has a playful liveliness about it, but it also feels like DIOY,Y? (now that's an acronym) have been too generous with the effects, with random beeps and laser blasts peppering the core synth line. 'The Monkeys Are Coming' only continues this trend, with some ridiculous monkey noise backing vocals on the verse before a relatively standard chorus. It's difficult to ignore the fact that, when they aren't being over-zealous with their mix, they sound distinctly like The Prodigy, from their drum beats to the synth voices, and it taints the listening experience somewhat.
'Wrong Time Wrong Planet' provides a change of pace with its slower tempo and MGMT-esque keyboards, and it's refreshing to get a change in tone from the electronic onslaught of the album so far. This only serves to create a polarity to 'The Wrestler' which follows. Kicking off with a rousing sample, DIOY,Y? streamline their sound, tightening up the synth and creating a nice ebb-and-flow effect from verse to chorus. It's one of the more original tracks on 'Don't Say We Didn't Warn You'. This then leads straight into 'Wondering', and the two tracks make a great one-two punch of swaggering grooves.
This bombast of noise is then reined back in for the final track, 'Broken Arms'. A stripped back acoustic number, 'Broken Arms' provides the listener with the necessary wind-down after the 45 minutes of barbed synth and battering beats that preceded it.
If you are in the right mood – the right mood being absolutely ready to party your legs off – then 'Don't Say We Didn't Warn You' is an incredibly satisfying listen that'll help the night go with a bang. However, its near relentless onslaught of noise holds it back from greatness. By the time 'Broken Arms' comes to a close, you'll be craving something quieter to counteract all that un-restrained electro-rock.
Written by Grant Bailey
---
Tags: Does It Offend You Yeah?
This entry was posted on Monday, March 14th, 2011 at 4:17 PM and is filed under CDs. You can follow any responses to this entry through the RSS 2.0 feed. You can skip to the end and leave a response. Pinging is currently not allowed.