FEATURE: The MySpace Generation: Where Are They Now?
April 26th, 2016
In February, the social media giant that is Facebook celebrated their 12 year anniversary. Back before the days when Facebook ruled the roost (yeah, we're going back a bit now), MySpace was the social media daddy.
Sure, if you were a regular MySpace user, you probably recall the intense amounts of huge fake hair with multiple colours, the range of 'scene' names where you'd include anything mildly gory or dangerous if it wasn't "RAWR", whore trains, a plethora of bulletins asking for PC4PC/S4S/W4W/etc or telling you to repost something or you'll die, amongst others. However, one of the things that kept MySpace such a interesting prospect from its inception to its dwindling demise from about 2008 onwards was what it did for music.
MySpace was the number one stop to find more information about your favourite bands, where to catch them, what they sound like, getting a headstart in unearthing up-and-comers – the whole shabang really. In fact, MySpace even had their own record label and, for a lot of acts, even helped to launch their careers, with many referring to the top names as "MySpace bands".
Whether they're still around today or not, that tag has, of course, been shaken off. We're taking a look at 24 bands who fell under that bracket, and whether or not they're still here today to tell the tale.
---
Arctic Monkeys

Years Active: 2002-present
Genre: Indie rock
Now five albums into their career, Arctic Monkeys have a lot to owe to the power of MySpace music and, to begin with, their fans' love for the site. Allegedly, the band's fans had set up several different pages to showcase their music before the band even got chance to get around to it themselves. Eventually, the Yorkshire outfit jumped onto the bandwagon and, soon after, the band managed to get a mainstream push through various radio stations and, following a signing to Domino, released their fist record, 'Whatever People Say I Am, That's What I'm Not', which became the best selling debut album in British music history, shifting over 360,000 copies in its first week and remains the fastest selling debut album by a band.
MySpace era track:

'I Bet You Look Good On The Dancefloor'
---
Attack Attack!

Years Active: 2007-2013
Genre: Metalcore / Electronicore / Post-hardcore
Often confused with the Welsh band with the same name, except with two exclamation marks (who have also since parted ways), Attack Attack! were not only branded as one of the later generation of "MySpace bands", but also brought themselves their very own genre: crabcore. Their MySpace days were that of their debut album, 'Someday Came Suddenly', which featured the band's original vocalist Austin Carlile (now of Of Mice & Men) before moving frontman duties to Caleb Shomo (now of Beartooth). The final line-up confirmed that they'd be calling it a day back in April 2013 and since have gone on to form Nativ, a band that faced a short career that ended in 2014.
MySpace era track:

'What Happens If I Can't Check My MySpace When We Get There?'
---
Blood On The Dancefloor

Years Active: 2007-present
Genre: Electro-pop / Crunkcore
One of the last of the few electro-pop bands that saw their fame explode to a point where they could survive without the site before MySpace slowly became less and less popular in 2008, Blood On The Dance Floor's weapon of choice was to release loads of music so that there was always something new to deliver to their fans. This, complete with their shovel quantities of make-up smacked on the face and hair colour ranges that would make you think they were born from a rainbow, Blood On The Dance Floor are essentially a snapshot of everything the MySpace scene was about.
MySpace era track:

'Let's Start A Riot!'
---
Breathe Carolina

Years Active: 2006-present
Genre: Electronic rock / Electro-pop
Colorado's Breathe Carolina are evidence that just a couple of friends equipped with a laptop with music-creating software GarageBand installed, a microphone along with a hard working DIY attitude can make a name for themselves. David Schmitt and Kyle Even did just that to self-record and self-release their 'Gossip' EP in 2007 before being picked up by Rise Records to then release debut full-length, 'It's Classy, Not Classic'. Following two further albums, 'Hello Fascination' and 'Hell Is What You Make It', Kyle Even left the group and Breathe Carolina became a band with a four member line-up, who went on to release their fourth record 'Savages' in April 2014.
MySpace era track:

'Diamonds'
---
Bring Me The Horizon

Years Active: 2004-present
Genre: Metalcore / Deathcore (early)
Back in MySpace's glory days, you'd be facing a challenge to find someone who enjoyed heavy music and didn't have a Bring Me The Horizon track as their profile song at least once during the time they've had their account… other than those revolting against their apparent approach to style over substance. Fast-forward a few years to today and Bring Me The Horizon have released their most sucessful album to day, 'Sempiternal', are considered one of the biggest bands in the world to be both heavy and entering the mainstream and, to top it all off, headlined Wembley Arena at the end of 2014. Their follow-up 'That's The Spirit' was released at the end of 2015, which saw the most drastic change the band have made yet, almost abandoning their metal style completely. They also played a show with a full orchestra at London's Royal Albert Hall in April 2016.
MySpace era track:

'RE: They Have No Reflections'
---
Brokencyde

Years Active: 2006-active
Genre: Crunkcore
Few bands have suffered a venomous backlash from their general existence alone than that endured by "crunkcore" forerunners, Brokencyde. Indeed, just the fact that they brought to the table the crunkcore genre alone caused more haters than fans and this, along with several attacks from the media along with the public from different avenues, may leave Brokencyde with the unwanted title of most hated band in recent memory. Admittedly, though still active, Brokencyde have been exceedingly quiet other than a few shows here and there since releasing 'Guilty Pleasure' in 2012. That was until the tail-end of 2014, when they launched an Indiegogo campaign to help fund its follow-up… which went on to only bring in a total of 33 backers and raise $1,421, a mere 5% of their $30,000 goal. They eventually self-released the album, 'All Grown Up', in February 2016.
MySpace era track:

'Bree Bree'
---
Cute Is What We Aim For

Years Active: 2005–2011, 2012-present
Genre: Pop-punk / Pop-rock / Powerpop
Landing on the ground running with a signing to Fueled By Ramen (the label you absolutely wanted to be on at the time if you made anything remotely pop-punk) early on in their career, the release of debut album 'The Same Old Blood Rush With A New Touch' and several tours across the States and beyond primed Cute Is What We Aim For as a band ready to spearhead the scene. However, following the release of 2008's 'Rotation', things spiralled out of control. All members bar frontman Shaant Hacikyan left the project and, despite initiating a "comeback" in 2012 and releasing a new song here and there, we're yet to see this fully implemented. Who knows? Album number three may be with us very soon.
MySpace era track:

'There's A Class For This'
---
The Devil Wears Prada

Years Active: 2005-present
Genre: Metalcore
Grabbing on to the clutches of the MySpace music success wave whilst on its final legs before the success of Facebook started breaking through, The Devil Wears Prada may be one of the last proper "MySpace bands" to come through. The band managed to secure a deal with Rise Records pretty early on, who released their first two records. Since then the band have gone on to release a further three records, a live album, and two conceptual EPs. Yet, it's pretty well documented that the band hate their own name.
MySpace era track:

'Dogs Can Grow Beards All Over'
---
Drop Dead, Gorgeous

Years Active: 2004-2011
Genre: Post-hardcore / Metalcore
Possibly having the most MySpace referring track name, 'Dressed For Friend Requests', along with also calling one of their songs 'Bullets Are Scene', the guys in Drop Dead, Gorgeous definitely hold the title of a "MySpace band". Following their second album 'Worse Than A Fairytale' back in 2007, the hype surrounding the Colorado outfit began to fizzle out at around the same rate as that of MySpace and, in 2011, the band confirmed that they were to head on hiatus. However, come 2013, the band has deleted both their official Facebook and Twitter accounts, suggesting that perhaps this is a permanent plan.
MySpace era track:

'The Show Must Go On'
---
Enter Shikari

Years Active: 2003-present
Genre: Post-hardcore / Electronicore
Few bands do their careers the DIY way to the extent that Enter Shikari do. From day one, the St. Albans quartet have done everything their way on their terms, from family members standing in as tour management, setting up their own label and organising their own tours, to list just a few things. Back when MySpace was still at its peak, 'Sorry, You're Not A Winner' and 'The Feast' were festering around on nearly everyone's profile song player, and is still a set staple for the band. As of January 2015, the band have a total of four full-length albums under their belt, and are still running strong as a mainly DIY driven project. One of the strongest survivors from the "MySpace band" category.
MySpace era track:

'The Feast'
---
From First To Last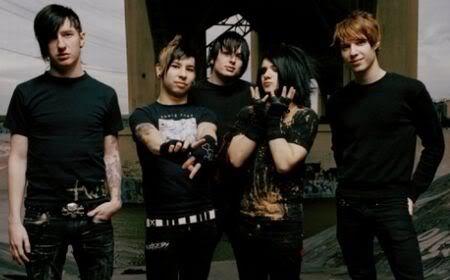 Years Active: 2003-2010, 2013-present
Genre: Post-hardcore / Emo / Melodic post-hardcore
You know Skrillex, right? But, do you know his real name and his musical past before he started making all those weird sounds and raving about the word "bangarang"? Sonny Moore was once the frontman of From First To Last, joining the line-up and recording their debut album 'Dear Diary, My Teen Angst Has A Body Count' at the mere age of 15, before leaving in 2007 after repeated vocal damage. The band went on without him, before going on hiatus themselves in 2010. However, just last year they announced a return, this time with Spencer Sotelo (of Periphery) providing some pipe work, and even did a reworking of their MySpace era classic 'Note To Self' with their new frontman. They released their fifth album, 'Dead Trees', with their new line-up in April 2015.
MySpace era track:

'Note To Self'
---
Hollywood Undead

Years Active: 2005-present
Genre: Rap rock / Rap metal / Rapcore
These Carlifornian rappers were such a treasure to MySpace, they were one of the first few acts who signed up to their record label, MySpace Records. However, after a very short lived relationship, Hollywood Undead decided to break it off from MySpace Records and move to Octone Records to release their debut album 'Swan Songs', as they wanted to censor some of their songs or remove them completely. Still, their songs on their profile racked up thousands upon thousands of plays, including 'Turn Off The Lights', a track featuring fellow MySpace celebrity, Jeffree Star.
MySpace era track:

'Turn Off The Lights (feat. Jeffree Star)'
---
I Set My Friends On Fire

Years Active: 2007-present
Genre: Post-hardcore / Electronicore
Much like Breathe Carolina, who started with two friends and their own equipment to make music in their bedroom, I Set My Friends On Fire are a band who began on very little. However, unlike Breathe Carolina, ISMFOF had their account shut down on several occassions as MySpace thought they were using illegal software to bring in the huge volume of plays that they were getting for their cover of Soulja Boy Tell 'Em's hit 'Crank That' in such a short space of time. Following the departure of co-founder Nabil Moo in 2010, Matt Mehana remains the only member who brings a live band with him on the road. Third album 'Caterpillar Sex' has been silently in the works for a while now, but is expected to drop in 2016.
MySpace era track:

'Crank That'
---
Jeffree Star

Years Active: 2006-present
Genre: Pop / Electro-pop
Not known solely for his social media presence but as someone who likes to dip his finger in several pies at the same time, all the while calling people a "cunt" wherever and whenever possible, Jeffree Star also has a somewhat notable musical career, in MySpace circles at least. Along with his own material and creating a vulgar lyrical alternative to Black Eyed Peas single 'Boom Boom Pow', Star also tends to make regular appearances in tracks of other "MySpace band" buddies, including the aforementioned Breathe Carolina and Hollywood Undead, and has embarked on several tours with Brokencyde and Millionaires.
MySpace era track:

'Straight Boys'
---
Job For A Cowboy

Years Active: 2003-present
Genre: Death metal / Deathcore (early)
Arguably, Job For A Cowboy is why a lot of the heavier bands, in a lot of cases being copycats, began flooding from several corners of MySpace. Indeed, the lifting of the messy and scratched up band logo, the squee-ing pig squeal screams and general deathcore presence on MySpace came across rarely until this Arizona outfit blew up and became the heavier and "less poser" alternative for a profile song to Bring Me The Horizon, who began drawing MySpace fame at around the same time on the other side of the Atlantic. Now, eleven years and several releases into their career, Job For A Cowboy have cut the terms "MySpace band" and "deathcore" from their name and are one of the scene's more respected death metal acts.
MySpace era track:

'Entombment Of A Machine'
---
Lily Allen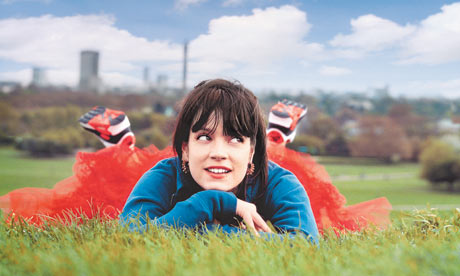 Years Active: 2005-present
Genre: Pop
Despite many believing that Lily Allen's ability to enter the music industry and become the success that she is today is due to the status of her father, Keith Allen, in actuality Lily's hard work is the catalyst here. After leaving school to work on her songwriting abilities, she eventually put some tracks on her MySpace profile for people to hear in 2005 and, after quickly gaining a notable fanbase off of a few songs, was given airplay on BBC Radio 1 and picked up by Regal Recordings. Not only this, she even sparked Kate Nash to follow in similar footsteps and, as a result, she has also received success from a foundation of MySpace followers.
MySpace era track:

'LDN'
---
The Medic Droid

Years Active: 2005–2008, 2012–present
Genre: Electro-pop / Pop
Though the name The Medic Droid may not mean anything to a lot of people, even if they were in the thick of the MySpace scene, maybe the mention of their song 'Fer Sure' would jog most memories back into action. Beginning solely as Chris Donathon and releasing the aforementioned song, he soon recruited Hector Bagnod and Johnny Chavez (who left in 2007) after the track gained a strong following. In 2008, the band released 'What's Your Medium?', their one and only album before parting ways later that year. However, Chris Donathon recently announced that The Medic Droid had returned and that they're working on new material. They played their first show together since their reformation in January 2016, along with an Australian tour planned for May 2016.
MySpace era track:

'Fer Sure'
---
Millionaires

Years Active: 2007-present
Genre: Pop / Electro-pop
Much like a lot of MySpace's electro-pop acts, Millionaires were born from a few friends messing about with GarageBand. Sisters Melissa and Allision Green and their friend Dani Artaud created their first song 'I Like Money' using one of the programme's pre-installed loops and made a few alterations, uploaded said song onto a MySpace profile under the name of Millionaires, and that's how it all began. Dani Artaud has since left the group, but the Green sisters have continued onwards, releasing their debut album 'Tonight' in March 2013, and continue to be point of controversy in pop music due to their explicit lyrics. The band even released a song called 'MySpace Pic' for free download (here) in 2014.
MySpace era track:

'Alcohol'
---
Panic! At The Disco

Years Active: 2004-present
Genre: Alternative rock / Pop rock
Picked up from hearing a few songs online by Fall Out Boy bassist Pete Wentz and placed onto his imprint of the Fueled By Ramen label, Decaydance Records, it's an overwhelming understatement to say that Panic! At The Disco's presence on MySpace from that point onwards didn't increase their profile tenfold. The band hadn't played a single live show, and yet they were receiving more than ten times the amount of plays per day than a band would in a month and had been touring for several years. Their debut album 'A Fever You Can't Sweat Out' by many is still considered the jewel in their crown, but with a further four albums under their belt, P!ATD are a definite MySpace success story.
MySpace era track:

'Time To Dance'
---
Penknifelovelife

Years Active: 2003-2007
Genre: Alternative rock / Pop rock
Perhaps one of bigger success stories in Britain than America thanks to MySpace that nearly broke through the ceiling into progressing towards some true success, but sadly was never meant to be. The band were all over so many MySpace profiles as the choice for a profile song, and even helped to birth the still ongoing Small Town Records. However, frontman Ross Kenyon parted with the band in 2006 to join Californian outfit Confide and, though the band tried out a few other replacement frontmen, nothing ever developed from it.
MySpace era track:

'Touch Me Again And I Will Stab A Screwdriver Into Your Face'
---
Never Shout Never

Years Active: 2007-active
Genre: Indie rock / Indie pop
Originally simply an alias for his solo work, Cristofer Drew then brought his live band into the fold as full band members, making Never Shout Never (originally stylised as NeverShoutNever! for cool MySpace points) a band as opposed to a solo project. Indeed, his solo days were those when he flourished on MySpace, releasing several songs which tugged at the heart strings of all the young girls who came to hear it. Now, as a full band, Never Shout Never are remaining a small fish in a big bond in comparison to their major label contemporaries, but staying to their roots release after release.
MySpace era track:

'Big City Dreams'
---
Sherwood

Years Active: 2002-2012
Genre: Pop-rock / Indie rock
Californian rockers Sherwood may be the band who stayed with MySpace Records for the longest in the label's history. Indeed, these guys were the label's (and, to some extent, the website's) flagship act. You couldn't be a regular user of your MySpace account and not have at least seen either their profile, one of their tracks chosen as a profile song, a bulletin from them or an advert about their latest release popping up on their screen. Infact, even the ever-popular MySpace founder Tom Anderson had one of their tracks as a profile song. Very possibly the biggest "MySpace band" of them all.
MySpace era track:

'Song In My Head'
---
Waking The Cadaver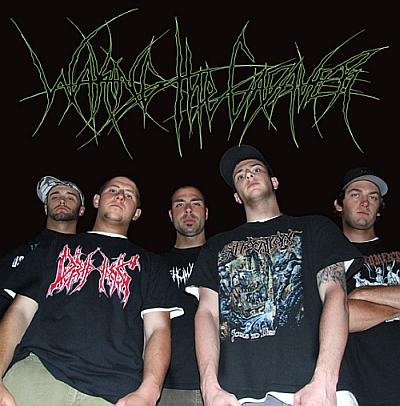 Years Active: 2004-2015
Genre: Death metal / Deathcore / Grindcore
If anyone knows Waking The Cadaver from the MySpace days, it was probably down to the "Shredded Wheat" video made to accompany their pig squeal heavy track, 'Chased Through The Woods By A Rapist'. As the name of both the band and the song suggests, these fellas are far from the ideal guys to read your kid a bedtime story. However, despite many thinking that these guys would be ones to live and die with MySpace, they went on to release three full-lengths in their career before parting ways in February 2015. Don't worry, they still have a hard as fuck logo to decipher.
MySpace era track:

'Chased Through The Woods By A Rapist'
---
You Me At Six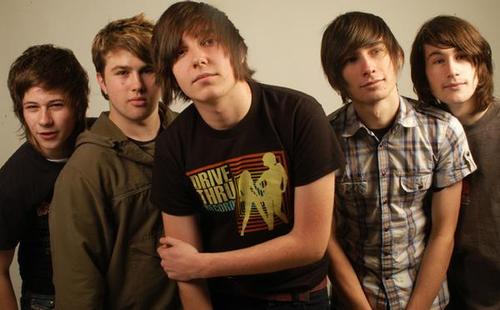 Years Active: 2004-present
Genre: Pop-rock / Pop-punk / Post-hardcore (early)
Nowadays, You Me At Six are busy feeding your ears via car drives through BBC Radio 1, soundtracking your football computer games, or headlining Wembley Arena with their pop-rock anthems. However, back in their humble beginnings, they were simply popping up on your MySpace with a blend of pop-punk/post-hardcore and drawing in plenty of fans, enough to then bring them on their first UK tour, through which they did by packing their gear into a Megabus and then carrying it to the venue. Give oldies 'Noises' and the original version of 'The Rumour' a listen, and remember YMAS over a decade younger than they are today.
MySpace era track:

'This Turbulence Is Beautiful'
---
Written by Zach Redrup (
@zachredrup
)