ALBUM: Cee Lo Green – The Lady Killer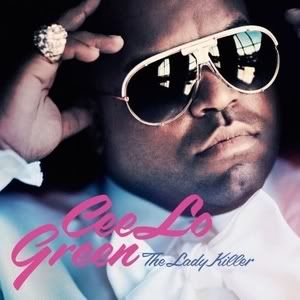 Release Date: November 8th, 2010
Label: Warner Bros. Records
Website: www.ceelogreen.com
MySpace: www.myspace.com/ceelogreen
Rating:


Cee Lo's third solo album is called 'The Lady Killer', but given his track record it's pretty obvious who that lady killer is meant to be. Admittedly, releasing a single called 'Fuck You' is not in the vein of the typical ladies man we've come to expect, but then there's nothing typical about Cee Lo; a self-styled eccentric rooted in the formalism of classic soul, but happily undermining the rules when the mood strikes. Motown, Stax, Philadelphia International – all those familiar templates are on the table, but no one would ever confuse Cee Lo's updates of revivalism or pastiche.
'Fuck You' is such a gleefully blasphemous, giddily catchy song that it didn't need an album with it. Still, as prominent as 'Fuck You' may be, it's not the only thing the album has going for it. With a horde of soul-digging producers at his beck and call (including Salaam Remi and Brit synthesizers Fraser T. Smith and Paul Epworth; Bruno Mars' crew the Smeezingtons did 'Fuck You'), Cee Lo has a blast role-playing the old-school soul man. Never mind the fact that his non-traditional voice isn't always the right fit for the material, the man's got more than enough personality to make his sideways take on mellow R&B soar.
Throughout, Cee Lo manages to avoid being both too rough or too smooth; that means we get not only the buoyant Motown homage 'It's OK', but also the hushed storm seduction of 'Bodies'. He goes slinking 80s synth on 'Bright Lights Bigger City', its stalking bass line consciously echoing 'Billie Jean', but he's equally at ease transforming Band Of Horses' 'No One's Gonna Love You' into a slow jam. He yields much of the spotlight to Paradiso Girl Lauren Bennett on 'Love Gun', and happily shares it with Earth, Wind & Fire's Philip Bailey on 'Fool For You'. The aptly named 'Old Fashioned' is the most overtly old-school production on the disc, its call-and-response backing vocals and swooning strings relics of another time, but in the context of the disc it's less a flashback than a deferential reference point.
If the de rigeur synthetic frills keep 'The Lady Killer' from the visceral, tactile highs of the current soul revival, they do remind that artifice can often be its own reward. That is, no one will put on 'The Lady Killer' when they want to hear soul music. They'll put it on when they want to hear Cee Lo's contemporary, confident conception of soul music, which isn't innately inferior, just different, and at it's best, infectious. If he's not always lethal, that doesn't make him any less of an expert marksman.
Written by Rhys Milsom
---
Tags: Cee Lo Green
This entry was posted on Monday, November 8th, 2010 at 9:38 PM and is filed under CDs. You can follow any responses to this entry through the RSS 2.0 feed. You can skip to the end and leave a response. Pinging is currently not allowed.